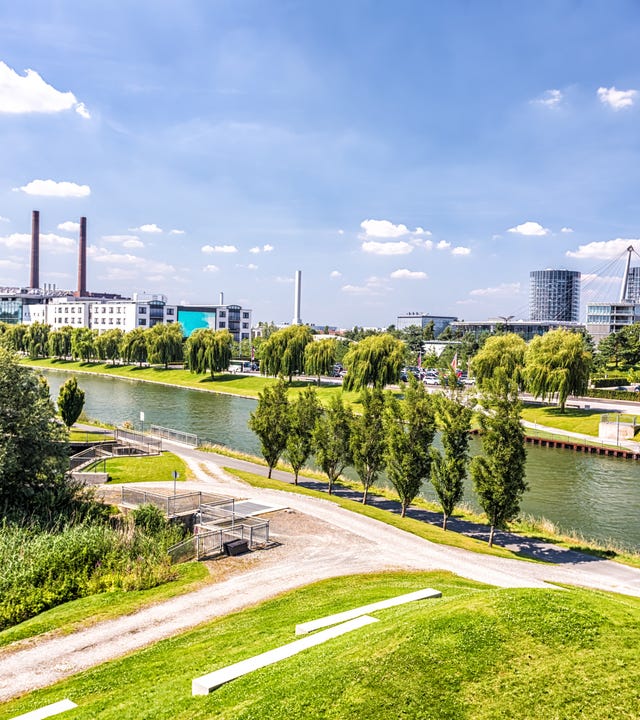 Wolfsburg Language Center
Address:
Heßlinger Straße 11
38440 Wolfsburg, Niedersachsen
Welcome to the Berlitz language school in Wolfsburg

Berlitz Wolfsburg is found right downtown near the city hall and the municipal library, making our language school easy to reach. From day one, instruction takes place in the target language, with every exercise focusing on a specific learning goal to build skills in listening, reading, writing, and, above all, speaking. At our language school you have many different course options to choose from, regardless of whether you wish to learn a language for professional or personal reasons. Group instruction is usually held with a maximum of six participants who are at the same proficiency level. Participants come together on one or two evenings per week, or for daily instruction in the case of an intensive language course. We offer a wide variety of course formats. For companies, we also offer specialized language courses as well as intercultural training and seminars aimed at improving leadership and soft skills. We are committed to meeting your continuing education needs.
These are some of the languages you can learn with Berlitz Wolfsburg:
Why you should choose the Berlitz Center in Wolfsburg
Easy to reach: If you come by car, you can park in the immediate vicinity of the Wolfsburg Berlitz Center, e.g. in the City Galerie or the Südkopf Center. Both of these parking options are located less than a five-minute walk from the Berlitz Center. If you use public transportation, we recommend you get off at the Kunstmuseum stop, which is only 200 meters from Berlitz Wolfsburg.
Preparation courses: If you are planning to sit for an internationally recognized examination such as telc, TOEFL, or TOEIC, it is worth taking advantage of one of our prep courses. Our language instructors know what it takes for you to do well on the language examinations and can help you get ready using specific learning materials.
Official test center: At the Wolfsburg Berlitz Center, you can sit for the telc German tests. We also offer prep courses for these examinations.
Courses for kids: In our Wolfsburg language center, we offer weekly courses for young people ages 7 years and older as well as vacation courses.
Your contact at Berlitz Wolfsburg
Julia Runge
Center Director
Your contact for all language courses at the Wolfsburg Berlitz Center or in the Berlitz Online Classroom.
FAQs
Can I apply for state assistance for my language course?
Within the framework of the German for Professional Purposes program, B2 and C1 language courses with a professional focus are eligible for the Federal Office for Migration and Refugees (Bundesamt für Migration und Flüchtlinge, BAMF) voucher. With the Federal Employment Agency's AVGS training voucher (Aktivierungs- und Vermittlungsgutschein), you also can take part in courses such as our individual instruction aimed at professional language needs (Fachsprache im Beruf), as well as English for Professional Purposes (Englisch für den Beruf) and other eligible group language courses. We also offer language courses that are eligible for educational leave in Wolfsburg. Please contact us for more information.
How do I know which is the right language course for my proficiency level?
To determine your current language proficiency level, we offer a free placement test that helps us find the language course that is perfect for you.
What is the fastest way to learn a new language?
Usually individual instruction is an especially fast way for you to learn, because here we can completely adapt the content of the language course to your needs and the language instructor can focus entirely on your goals and requirements. In addition, you will speak for a particularly high amount of the time. Intensive courses such as our Total Immersion course, which usually involves 60 classroom hours per week, are the most effective method for learning a new language quickly and actively.
What course formats do you offer?
In addition to group courses or individual language courses, you can also work to improve your language skills online. We offer e-learning formats for self-guided study as well as Live Online courses taught by an instructor in an Online Classroom. If you'd like more information, please contact us.
Find out more
Contact us today with your questions. We can work together to find the course that's right for you – with no obligation on your part. Your Berlitz team will contact you shortly.