You never stop learning! Although Berlitz has been around for over 140 years and has perfected its teaching methods, we are always looking for new ways to optimize the learning process and offer the ideal language course for everyone. We therefore use innovative technology to offer our students different options for learning Arabic online. In addition to lessons in the Berlitz Online Classroom, we also offer flexible courses on our own language platform with Berlitz Connect. This means that anyone who wants to learn Arabic online can find the perfect online course.
Why you should learn Arabic online with Berlitz
Flexibility: Our Berlitz Arabic courses offer you maximum flexibility and let you decide when, where, and how often you want to practice Arabic online.
Individuality: Every person is different. At Berlitz, we recognized this early on, which is why we design all of our Arabic courses to meet the personal needs of our students.
Progress: Our students are only as good as our learning methods. That's why we use technological innovations to constantly optimize our Arabic lessons.
Experience: Berlitz has been around for over 140 years. We have used this time to pass on proven learning processes to our language teachers, so that this can be optimally applied in Arabic classes.
Universality: Learning a new language also means thinking outside the box. Therefore, it is important to us to also integrate cultural contexts and characteristics into the language course.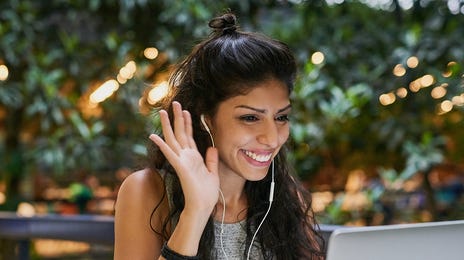 Our online courses are suitable for everyone:
Online courses for adults: We offer online Arabic courses for all adults - no matter if you already have some knowledge of the language or not.
Online courses for companies: If you would like to learn Arabic online together as a company, we have the right online courses for you.
Online courses for children and teenagers: If your child or teenager would like to learn Arabic online, you will find the right course with us.
Frequently asked questions (FAQ)
Can I take a language exam such as TOEFL at Berlitz?
You can take exams for international language certificates in some (not all) of our language schools. We offer numerous language courses that prepare you perfectly for these tests. Our Berlitz language trainers know exactly what is required for the language tests, which means that our preparation courses meet the requirements of the test. We also offer our own Berlitz exams, which you can use as proof of your language skills.
Is the language course suitable for everyone?
Yes, at Berlitz anyone can learn Arabic online. You can attend classes regardless of how old you are, how flexible your schedule is, what your personal learning goals are, and what your language level is. Feel free to contact us so we can work together to find the perfect language course for you.
Is it better for me to take individual or group lessons?
This decision depends on what your learning goals are, what type of learner you are, and how much time you want to invest in the language course. In general, however, individual lessons give you the opportunity to be more involved in shaping the course and adapting it to your individual needs. This is especially suitable for participants who want to learn Arabic in a professional context. In group lessons, you learn with and from others, it is cost-effective and more realistic through simulations and role-plays.
Learn more
Contact us today with your questions. We can work together to find the course that's right for you - with no obligation on your part. Your Berlitz team will contact you shortly.