Many people dread thinking back to the language lessons they had at school. Often the lessons were one-sided and uninteresting, and the topics of the learning content were not particularly suitable for everyday life. At Berlitz, we have spent many years optimizing our language instruction to provide our students with innovative and effective learning - without boredom! We have made it our goal to impart not only language skills but also cultural knowledge in our English courses. Our language students also have the opportunity to determine the main topics themselves, so that you only learn what is important to you. This makes learning English with Berlitz a breeze.
Book now and save up to 20 % on Berlitz Connect
Discover the perfect combination of online self-study and live language instruction and study online at your own pace.
Why you should learn English online with Berlitz
Flexibility: Our Berlitz English courses offer you maximum flexibility and let you decide when, where, and how often you want to practice English online.
Individuality: Every person is different. At Berlitz, we recognized this early on, which is why we design all of our English courses to meet the personal needs of our students.
Progress: Our students are only as good as our learning methods. That's why we use technological innovations to constantly optimize our English lessons.
Experience: Berlitz has been around for over 140 years. We have used this time to pass on proven learning processes to our language teachers, so that this can be optimally applied in English classes.
Universality: Learning a new language also means thinking outside the box. Therefore, it is important to us also to integrate cultural contexts and characteristics into the language course.
Our language level in English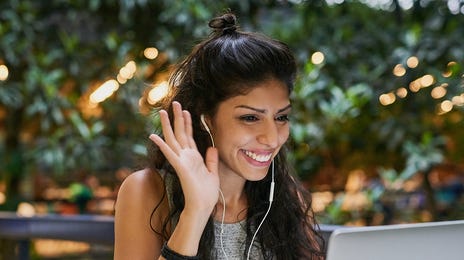 Our online courses are suitable for everyone:
Online courses for adults: Any adult can join our English courses, no matter where you are.
Online courses for businesses: Our online Business English courses are ideal for anyone who wants to use their language skills in a professional environment.
Online courses for kids and teens: The perfect English course for digital natives is our Berlitz online offering for kids and teens.
Frequently asked questions (FAQ)
Where can I learn?
With over 500 language centers worldwide, Berlitz is one of the largest language schools in the world. Our schools can be found in many major cities. If there is not one of our language schools in your city, that is not a problem either. Thanks to our extensive online offerings, you can participate in our English courses from anywhere in the world.
How often do the classes take place?
That depends on how much time you have or how much time you want to invest in your language course. At Berlitz, we offer several options, allowing you to choose when and how often you want to study English. Thanks to various online tools, you also have the opportunity to practice English on your own after class.
Are there also courses for advanced students?
We offer English courses for every language level. Before starting, we conduct a language test to find the language course that matches your language skills. We always provide you with an overview of your learning progress so that we can ensure that your course is appropriate for your language level.
Learn more
Contact us today with your questions. We can work together to find the course that's right for you - with no obligation on your part. Your Berlitz team will contact you shortly.