As a result of our many years of experience, we at Berlitz have optimized our course program so that we can find the perfect language course for everyone. People learn differently, so we have designed our courses to offer you the freedom to decide for yourself whether you would rather learn more on your own or overcome the hurdle of language learning together with our language trainers. We offer innovative learning through the use of modern technology and take great care not to use obscure phrases in class that are not useful in the real world. Collaborative learning is important to us, which is why you can help shape the lessons according to your own ideas.
Why you should learn German online with Berlitz
Flexibility: Our Berlitz German courses offer you maximum flexibility and let you decide when, where and how often you want to practice German online.

Individuality: Every person is different. At Berlitz, we recognized this early on, which is why all of our German courses are designed to meet the personal needs of our students.
Progress: Our students are only as good as our learning methods. That's why we use technological innovations to constantly optimize our German lessons.
Experience: Berlitz has been around for over 140 years. We have used this time to pass on proven learning processes to our language teachers so that this can be optimally applied in German lessons.
Universality: Learning a new language also means thinking outside the box. Therefore, it is important for us to also integrate cultural contexts and characteristics into the language course.
Our language level in German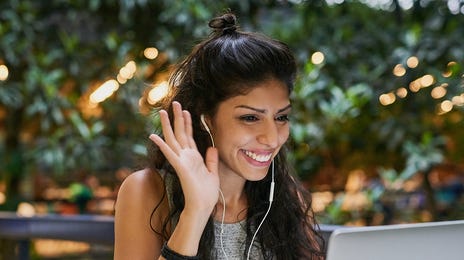 Our online courses are suitable for everyone:
Online Courses for Adults: This German course is for adults who would like to attend classes online. 
Online courses for companies: This German course is for companies and employees who would like to participate in language classes online. 
Online courses for children and teenagers: If your child would like to learn German online, you will find the right language courses here.
Frequently Asked Questions (FAQs)
We would like to participate in a German course as a company. Is this possible?
Yes, we offer numerous language courses for companies, which are designed according to your professional field and the associated learning content. You can determine the main topics yourself so that you acquire language skills that are relevant to your everyday work.
What is the fastest way to learn German?
The fastest way to learn German is in our online private lessons. There, your own speaking portion is maximized, you enjoy the full attention of the language trainer and can arrange the lessons according to your wishes. If you would like to practice German in addition to the lessons, we recommend that you also complete the exercises on our self-study platform Berlitz Connect Classic.
I don't have much time, can I still attend a language course?
Especially our online courses can be easily integrated into your everyday life. On Berlitz Connect Classic, for example, you will find many exercises of different lengths that you can quickly complete even during your lunch break, on the bus or in the evening on the sofa. However, we recommend that you attend German classes regularly to constantly improve your language skills.
Find out more
Contact us today with your questions. We can work together to find the course that's right for you – with no obligation on your part. Your Berlitz team will contact you shortly.