If you decide to join one of our online courses, we at Berlitz offer you numerous choices to learn Italian in a self-directed and self-paced way. We offer a flexible schedule as well as flexible payment options, making it possible for anyone to participate in one of our online Italian courses. During your language course, there are regular milestones where you can check if you are on the right track or if you should access additional support. This will allow you to make even faster progress and optimize your learning process.
Why you should learn Italian with Berlitz
Flexibility: Our Berlitz Italian courses offer you maximum flexibility and let you decide when, where, and how often you want to practice Italian online.
Individuality: Every person is different. At Berlitz, we recognized this early on, which is why we design all of our Italian courses to meet the personal needs of our students.
Progress: Our students are only as good as our learning methods. That's why we use technological innovations to constantly optimize our Italian lessons.
Experience: Berlitz has been around for over 140 years. We have used this time to pass on proven learning processes to our language teachers, so that this can be optimally applied in Italian classes.
Universality: Learning a new language also means thinking outside the box. Therefore, it is important to us to also integrate cultural contexts and characteristics into the language course.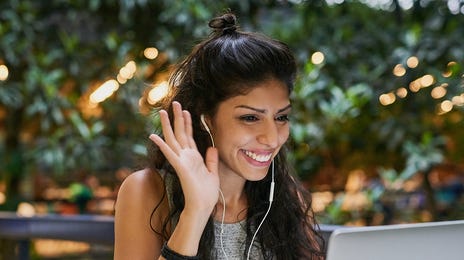 Our online courses are suitable for everyone:
Online courses for adults: This language course is ideal for those who would like to learn Italian online.
Online courses for companies: This language course is perfect for all companies and employees who would like to learn Italian online (together).
Online courses for children and teenagers: This language course is suitable for all children and teenagers who plan to learn Italian online.
Frequently asked questions (FAQ)
Can I decide for myself which topics will be discussed in class?
Our language trainers usually specify the topics that will be discussed in class. However, you are welcome to suggest topics yourself and thus help shape the lessons according to your ideas. In many of our online courses, we suggest topics from which you can choose the one that interests you the most.
Can I sign up with a friend?
If you choose one of our group courses, you can also register for it together.
What if I learn very fast or very slow?
We are aware that everyone has a different learning pace, and everyone also has different amounts of time available to learn Italian online. Therefore, we have found different ways to offer our students a choice of language course that best suits their learning pace.
Are Berlitz online courses subsidized?
Under certain conditions, you can receive up to 100% government funding for our language courses. For example, the costs can be covered if you are entitled to an activation and placement voucher (AVGS) or education voucher. It is best to contact your employment agency or job center in this regard.
Is it possible to participate in the online courses in the form of multi-day seminars?
We also offer online seminars lasting several days, especially for companies. These take place over two days and last 1.5 hours each. This way you can learn Italian together as a company without being tied to a specific location, even if some employees are located at different company sites.
Learn more
Contact us today with your questions. We can work together to find the course that's right for you - with no obligation on your part. Your Berlitz team will contact you shortly.