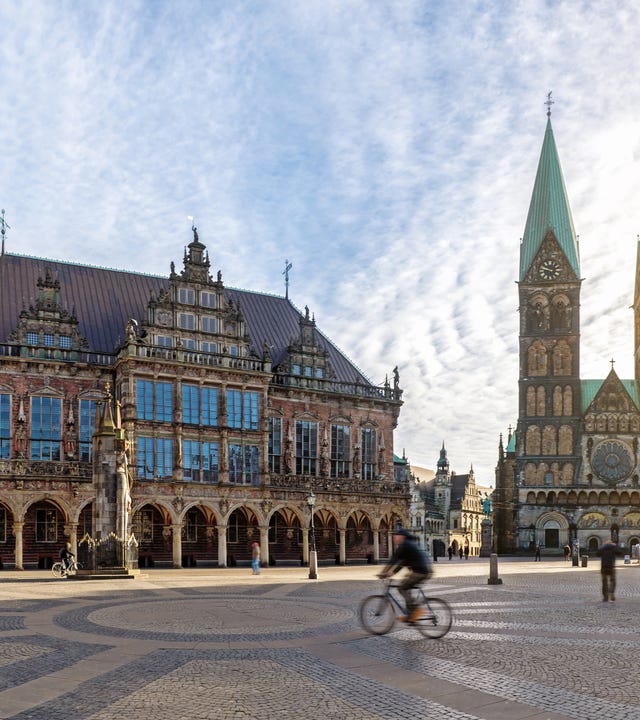 Bremen Language Center
Address:
Auxilium Business Center, Hollerallee 26
28209 Bremen, Bremen
Welcome to the Berlitz language school in Bremen

Our Berlitz Center is located right in the center of Bremen, about 15 minutes walk from the main train station. Many famous landmarks such as the statue of the Bremen Town Musicians, Böttcherstraße, the historic Schnoor neighborhood, and the Bremen Cathedral are nearby. If you are looking to continue your education and learn a new language, Berlitz Bremen is the right choice for you. Our international team will be pleased to assist you in meeting your personal learning goals quickly and effectively. We will help you prepare for examinations for internationally recognized language certificates such as TOEFL, IELTS, or TOEIC, and are an official test center e.g. for the telc language exam. Why don't you stop by and see us? We'd love to help you find the language course that's right for you.
These are some of the languages you can learn with Berlitz Bremen:
Why you should choose the Berlitz Center in Bremen
Official test center: At our Berlitz Center in Bremen, you can take many language tests, including the telc language exam.
Great location: Our Berlitz language school is located in downtown Bremen, making it particularly convenient to reach. If you come by car, you can park in one of the parking garages at the main train station. For those taking public transportation, the Am Stern S-Bahn stop is only a few minutes' walk from the language school.
Wheelchair accessibility: The classrooms are located on the 2nd floor (2. OG) and can be reached by elevator.
Courses for kids: For children ages 8 to 11 years, we regularly offer courses during school holidays.
Your contact at Berlitz in Bremen
Gulshat Khiyachina-Schwarz
Center Director 
Your contact for all language courses, either directly in the Berlitz Bremen center or in the Online Classroom.
Virtual tour through the Berlitz language school Bremen
FAQs
Does Berlitz Bremen also offer state-subsidized language courses?
It is possible to apply for state subsidies for some of our language courses: German for Professional Purposes (DeuFöV), subsidized by the Federal Office for Migration and Refugees (BAMF) as well as individual instruction in languages with the AVGS training voucher. Furthermore, we offer English for Professional Purposes and business-related language classes for experts and managers, subsidized with the training voucher from the Federal Employment Agency .
What qualifications do the instructors at the Bremen Language Center have?
The majority of our language instructors are native speakers. Their initial training and continuing education comply with the requirements of the DIN ISO 9001 quality management certification. They have training and methodological competencies on the national and international levels.
How many learners participate in your group courses?
In our language school in Bremen, instruction usually takes place in small groups with a maximum of six participants, so that every learner receives the greatest possible opportunity to speak the language.
Find out more
Contact us today with your questions. We can work together to find the course that's right for you – with no obligation on your part. Your Berlitz team will contact you shortly.