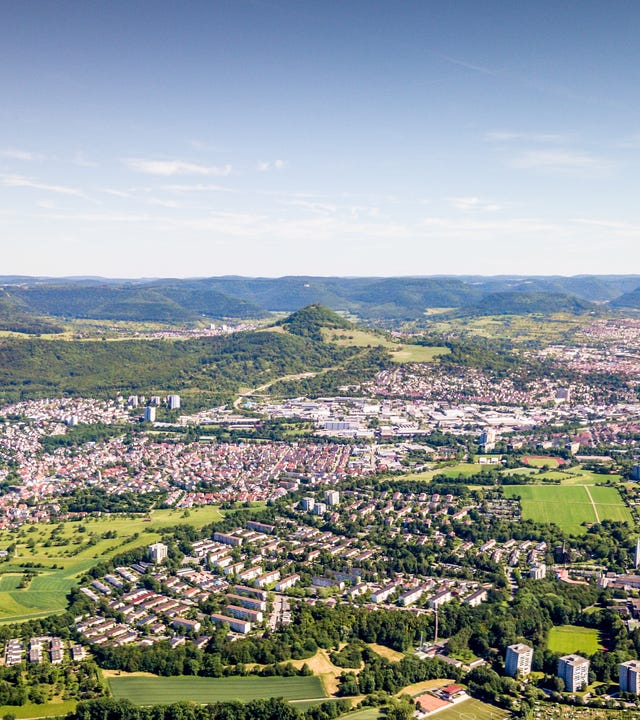 Reutlingen Language Center
Address:
Gartenstraße 10
72764 Reutlingen, Baden-Württemberg
Office Hours:
Tuesday and Thursday

By appointment
Welcome to the Berlitz language school in Reutlingen
Our Reutlingen language center is located right downtown, close to landmarks such as the city park, Zunftbrunnen fountain, and Tübinger Tor tower. The language school is just a few minutes' walk from the Reutlingen central train station.
Our international team will be happy to help you find the language course that is right for you. Contact us for an initial consultation with no obligation on your part. You have the choice between on-site instruction at the Reutlingen Berlitz Center and online courses. You can even combine face-to-face and online instruction. In addition to language classes, we also offer intercultural courses and business seminars. Whether you are looking to learn for personal or professional reasons, we believe it is important that all our courses offer a high degree of practical relevance so you can reach your goal quickly.
These are some of the languages you can learn with Berlitz Reutlingen:
Why you should choose the Berlitz Center in Reutlingen
Well-equipped: Berlitz Reutlingen has a coffee machine and computers for the use of our course participants – plus Wi-Fi is available throughout the language school.
Preparation courses: At the Reutlingen Berlitz Center, we offer prep courses for different internationally recognized examinations, such as VPET (formerly LCCI), TOEIC, or TOEFL. Our language instructors would be pleased to help you prepare for these examinations with the help of specific learning materials.
State-subsidized courses: With the Federal Employment Agency's AVGS training voucher (Aktivierungs- und Vermittlungsgutschein), at Berlitz Reutlingen you can take part in individual instruction courses aimed at professional language needs (Fachsprache im Beruf) as well as our Business English and Business German for Professionals and Managers language courses.
Easy to reach: If you come to your language class by car, we recommend that you park in the Galeria Kaufhof or C&A parking garage. Both of these parking options are located less than 300 meters away from the Reutlingen Berlitz Center. The Reutlingen central train station is also only a few minutes' walk from us, which means that it's convenient to use public transportation to get to the Berlitz Center.
Your Berlitz Team in Reutlingen
Stefanie Ebermann
Senior Center Director
Your contact for all language courses at the Reutlingen Berlitz Center or in the Berlitz Online Classroom.
Rebecca Gott
Study Advisor
Your contact for all language courses at the Reutlingen Berlitz Center or in the Berlitz Online Classroom.
Elena Minor
Manager Corporate Services
Your contact for corporate training in Reutlingen and vicinity.
FAQs
What is the language instruction like?
In our courses, you will only speak the language that you are looking to learn or improve. This means you learn all skills necessary to use the language actively. With the help of the Berlitz Method, you will quickly become immersed in the foreign language, allowing you to learn important grammar rules in the context of the language and the topic. We also focus on your language-learning goals and experiences.
Do I receive a certificate at the end of the course?
After you successfully complete the language course, you will usually receive a certificate of participation. In the case of courses with a final examination, you receive a corresponding certificate.
How do I learn a new language especially fast?
If you would like to learn or improve your skills in a language as quickly as possible, individual instruction is particularly suitable. Here the learning pace, content, and schedule can be entirely adapted to your wishes. Our most intensive individual instruction is our Total Immersion program, a concentrated course that lasts between one and six weeks. We will be happy to advise you.
How far in advance do I have to register for a course?
Generally speaking, we recommend signing up for the course of your choice at the Reutlingen Berlitz Center as early as possible. Our group courses have a limited number of participants. The starting dates of individual instruction are more flexible. Please contact us to learn more about our upcoming course offerings.
What sort of training do the Berlitz language instructors have?
The training offered by our native-speaker instructors is a central component of our quality-management certification under DIN ISO 9001. We recruit teachers in Germany and abroad. Their intensive training includes the successful application of the Berlitz Method, education methodology, and classroom management. Our instructors who teach online are also trained in didactic language instruction in Online Classrooms and the professional use of digital learning techniques. Our business instructors have many years of work experience and various certifications, e.g. in the fields of training, coaching, and facilitation.
Find out more
Contact us today with your questions. We can work together to find the course that's right for you – with no obligation on your part. Your Berlitz team will contact you shortly.