At Berlitz, we have developed effective learning methods to offer everyone the opportunity to learn Swedish online. For example, our language trainers are all native speakers and, during the lessons, the focus is on verbal communication so that you learn Swedish in the context of real-life situations. Each of our students learns differently, which is why we design our language courses to give you plenty of room to participate. For example, some students prefer to learn more on their own and others prefer to overcome the hurdle of language learning together with our language trainers.
Why you should learn Swedish online with Berlitz
Flexibility: Our Berlitz Swedish courses offer you maximum flexibility and let you decide when, where, and how often you want to practice Swedish online.
Individuality: Every person is different. At Berlitz, we recognized this early on, which is why we design all of our Swedish courses to meet the personal needs of our students.
Progress: Our students are only as good as our learning methods. That's why we use technological innovations to constantly optimize our Swedish lessons.
Experience: Berlitz has been around for over 140 years. We have used this time to pass on proven learning processes to our language teachers, so that this can be optimally applied in Swedish classes.
Universality: Learning a new language also means thinking outside the box. Therefore, it is important to us to also integrate cultural contexts and characteristics into the language course.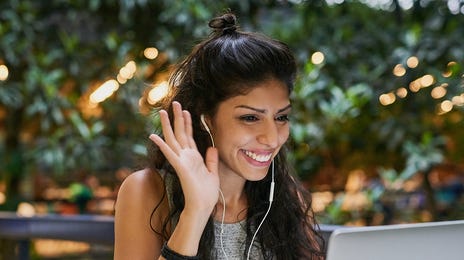 Our online courses are suitable for everyone:
Online courses for adults: This Swedish course is for adults who would like to attend classes online. Both beginner and advanced learners of Swedish will find the right course with us.
Online courses for companies: This language course is perfect for all companies and employees who would like to learn Swedish online together.
Online courses for children and teenagers: We offer a wide variety of online Swedish courses for children and teenagers of different ages.
Frequently asked questions (FAQ)
Is it better for me to take individual or group lessons?
This decision depends on what your learning goals are, what type of learner you are, and how much time you want to invest in the language course. In general, however, individual lessons give you the opportunity to be more involved in shaping the course and adapting it to your individual needs. This is especially suitable for participants who want to learn Swedish in a professional context. In group lessons, you learn with and from others, it is cost-effective, and it's realistic and practical with simulations and role-plays.
Can I access the content of the online courses offline?
Yes, much of the content in our online courses is downloadable, so you can access it even when you're not connected to the Internet.
When do the Swedish courses start?
The language courses start regularly on different dates. The face-to-face classes in our language schools take place on fixed dates. Our online courses can usually be booked flexibly - often very spontaneously. Please contact us to find out when the next course starts.
Learn more
Contact us today with your questions. We can work together to find the course that's right for you - with no obligation on your part. Your Berlitz team will contact you shortly.