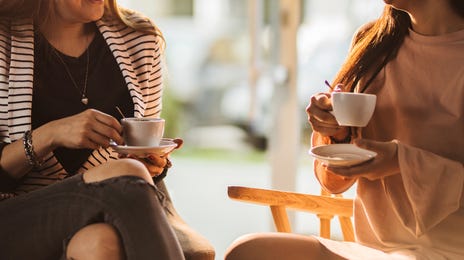 Learn Cantonese with Berlitz
Learn Cantonese simply and easily with Berlitz. Our Cantonese lessons will have you speaking the language from day one, thanks to our proven practical immersion technique. Every class will build on your knowledge to get you fluent fast and give you language skills that will last a lifetime.
How Cantonese lessons with Berlitz work
Ever wondered how to learn Cantonese? With Berlitz, you will learn through immersion. This means that 80% of your Cantonese classes are spent speaking the language to maximize your time and fast-track your fluency.
We have over 140 years of experience teaching language, so rest assured you will get a proven, high-quality education.
Our proven Berlitz method gets you speaking Cantonese from your very first lesson.
We offer a variety of Cantonese classes tailored to different age groups: adults, children, teens.
We can tailor our programs for groups of employees who need specific language skills and cultural understanding to navigate their working world.
Open your world with Cantonese
Cantonese is an important language for business and travel. It is the second most spoken language in China, and the dominant language in Hong Kong and Macau. In the U.S., Cantonese is the most spoken Chinese language. 
Interestingly, learning Cantonese can also help you to learn Mandarin as both languages are tonal. Cantonese is also based on traditional Chinese characters while Mandarin features more simplified characters making it easier to pick up once you have mastered Cantonese.
What our learners say
"The one-on-one Berlitz course was perfectly suited for my needs. I will be signing up for it again soon"

John, USA
Schedule a free demo
Fill in the form below and an enrollment advisor will contact you to set up a free demo and discuss our language options with you.