Choose how you want to learn Polish online
We offer private and group online options for learning Polish.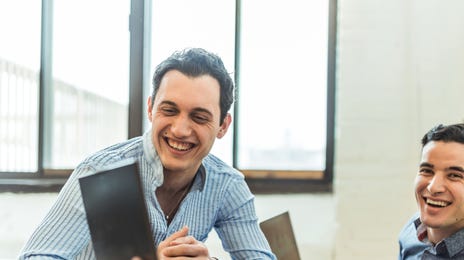 Why Learn Polish Online at Berlitz
Historically, Poland is one of the most interesting countries on the planet. Learning its language will help you to understand and interpret this history on a deeper level. For those who are looking to connect with their Polish roots, the language is a direct route into the culture and the people; while for travellers, having a working knowledge of Polish will be invaluable while navigating the nation (particularly parts outside of the traditional tourist spots).
Importantly, when you learn Polish online with Berlitz, you control when, where and how you learn – so you can fit study around your busy schedule without having to sacrifice any of your activities.
Benefits of learning Polish online at Berlitz
A century of success
We bring over a century of experience to your learning journey, so you get a high-quality education that combines tried and true methods with the latest technology and techniques.
Online classes to study from wherever you are
No matter where you are or what you have on, as long as you have a device connected to the internet, you can learn with Berlitz.
Study at your own pace with total flexibility
We know everyone has their own goals and learning style, that's why, when you study with Berlitz we offer you the flexibility to choose classes that match the speed and intensity at which you like to learn.
Intensive courses available
If you're looking for an intensive learning experience, we have several online options that will get you fluent fast.
Certified and experienced teachers
You will get direct feedback on your developing language skills from our native-level certified trainers, ensuring you avoid embarrassing mistakes where you put the emphasis on the wrong word, and instead understand how to speak naturally in any situation.
How learning online works with Berlitz
Frequently asked questions (FAQs)
Besides sharing a country border, Russia and Poland share other similarities. They both use Slavic languages, although Poland uses Latin letters, just like English. For this reason, if you're an English speaker, then you may find Polish quicker to pick up than Russian. However, it really comes down to your personal preference and interests.
Your progression really comes down to your time spent invested in the language. The more you put in, the quicker you'll progress. For a general guide, the U.S. Foreign Service Institute (FSI) classifies Polish as Category III, which means as an English speaker, you'll have more linguistic differences to learn, and it may take you longer to learn than a Category I or II language.
Yes, much of the content in our online courses are downloadable, so you can access it even when you're not connected to the Internet.
Schedule a free demo
Fill in the form below and an enrollment advisor will contact you to set up a free demo and discuss our language options with you.