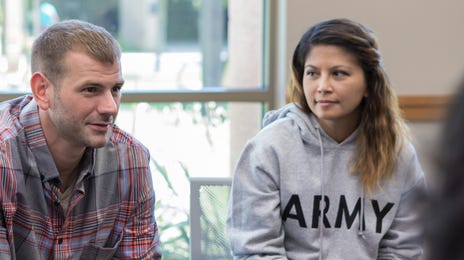 Start speaking Spanish from day one
Language is not a perfect science. Every single person adds a little variety to the language by the way they pronounce words, their accent or the non-verbal cues they use. So, when it comes to learning Spanish, it is great to hear as many voices as possible.
The group in-person Spanish classes from Berlitz give you just that opportunity. Our classes feature small group sizes led by a native instructor. This gives the classes structure, while also providing exposure to a social element that can increase fluency.
Interactive lessons
All Berlitz language classes use an immersive, conversational approach to language learning. With our group in-person classes, you will be surrounded by other students also learning Spanish. Only Spanish is used during classes, so there is non-stop interaction and conversation happening.
This interactive approach can significantly increase retention and the speed with which you can learn. You will begin learning new words and phrases immediately. As other students are also learning, the conversations will benefit the entire class. It will give you multiple perspectives and the repetition helps you to remember what you are learning.
Proven course material
The Berlitz Method has been helping people learn new languages for more than a century. Over this time period, we have perfected this method. All our course material is designed to enhance our proven strategy. You will have access to all the course material and can learn in your own time to speed up your progress. The course material combined with our excellent instructors allows you to learn Spanish as quickly as you need.
Structured class schedule
The in-person group Spanish classes feature a structured class schedule that allows you to plan accordingly. You will know the time of all the classes ahead of time, so you can schedule necessary arrangements well in advance of your classes.
The class structure can also help you properly gauge your timeline. With the help of the placement test and the class schedule, you will know the milestone dates. If you are learning Spanish for a particular timed purpose, such as a vacation or business trip, this timeline can be crucial. You can accurately measure your progress against the class schedule. This will let you know if you are on pace or if. You may need some additional classes to achieve your goals.
Find out more
Fill in the form below and we'll contact you to discuss your learning options and answer any questions you may have.