Whether you are passionate about Italian wines, a keen coffee drinker, or simply want to stay hydrated under the Italian sun, this article is a must-read!
Food and drink are a significant part of Italian culture, and no visit to Italy would be complete without sampling the range of fabulous drinks the country has to offer.
As well as learning how to order like a pro, in this article you'll discover how to enjoy an aperitivo like a true Italian and also find out about some Italian liquors you possibly haven't even heard of!
Are you ready to get into the holiday spirits? Andiamo!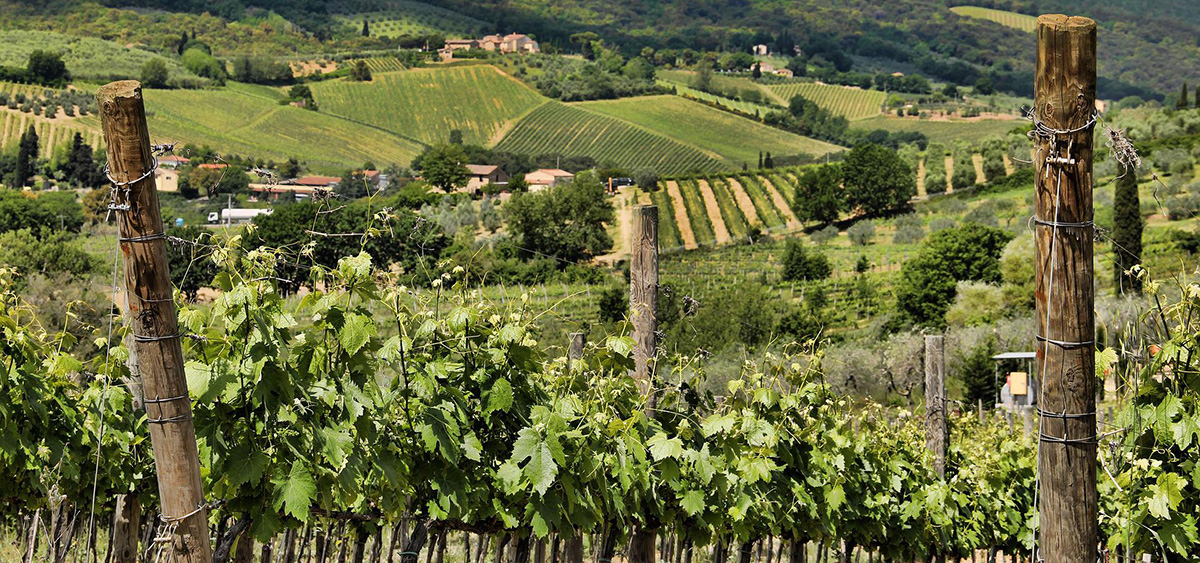 How do you say "drinks" in Italian
First of all, let's learn how to say "drink" in Italian. This word is pretty simple so it's a great one for you to start off with:
Una bevanda is "one drink;"
while bevande is "drinks," and it can refer to both alcoholic or non-alcoholic beverages.
For all the drinks in this article, we've included a pronunciation guide so that you can order with confidence. Check it out below.
| English | Italian (Singular) | IPA | Pronunciation |
| --- | --- | --- | --- |
| A drink | Una bevanda | ˈuna beˈvanda | oona beh-van-dah |
| Drinks | Bevande | beˈvande | beh-van-day |
How to order drinks in Italian
When you enter a bar or restaurant in Italy, you'll need to know how to greet the waiting staff and order a drink. If you've already read our article on Italian greetings, you'll know there are many ways to say "Hi" in Italian, but for this article, we'll stick with "Salve," which you can use at any time of day or night. Let's check out some examples below of different ways to order.
| English | Italian (Singular) | IPA | Pronunciation |
| --- | --- | --- | --- |
| Hi, can I have a ______ | Salve, posso avere un ____ | 'salve, posso 'avere un | sal-veh, pos-so ah-veh-reh oon |
| Hi, I'd like a ______ | Salve, vorrei un _____ | 'salve, vorrei un | sal-veh, vor-reh-ee oon |
| For me, a _____ | Per me un _____ | per me un ___ | per may oon |
| Hi, can I have a draught beer please? | Salve, posso avere una birra alla spina per favore? | 'salve, posso 'avere una ˈbirra alla ˈspina per faˈvore | sal-veh, pos-so ah-veh-reh oona beer-rah al-lah speen-ah per fav-or-eh |
| Hi, I'd like a coke please | Salve, vorrei una coca per favore | 'salve, vorrei una kɔka per faˈvore | sal-veh, vor-reh-ee oona coh-cah per fav-or-eh |
| For me, an espresso with milk thanks. | Per me un caffè macchiato, grazie. | per me un kafˈfɛ makˈkjatoˈgrattsje | per may oon kahf-feh mach-key-at-toh grat-zee-eh |
Drinks in Italian
Now that you know how to order, let's move on to the drinks!
Water in Italian
When you sit down at a bar or restaurant in Italy, you won't be automatically given a glass of iced water so it's important you learn how to order it.
Check out some of the different types of water below.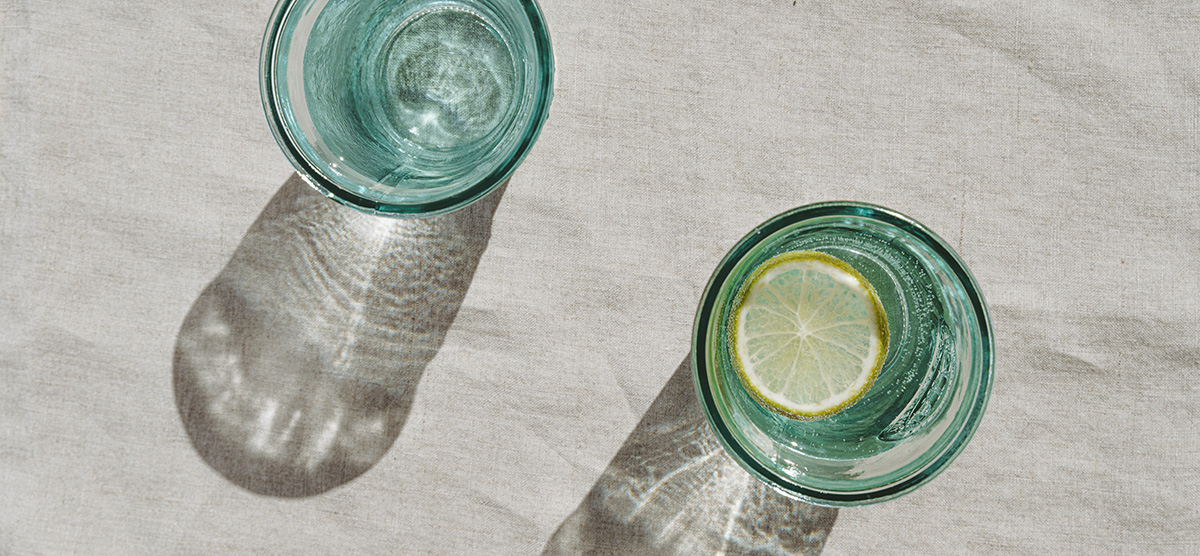 | English | Italian (Singular) | IPA | Pronunciation |
| --- | --- | --- | --- |
| Water | Aqua | ˈakkwa | ah-kwah |
| Still water | Acqua naturale | ˈakkwa natuˈrale | ah-kwah nah-tooh-rah-leh |
| Mineral water | Acqua minerale | ˈakkwa mineˈrale | ah-kwah mee-neh-rah-leh |
| Tonic water | Acqua tonica | ˈakkwa ˈtɔnika | ah-kwah toh-nee-cah |
| Soda water | Soda | ˈsɔda | soh-dah |
| Bottle of water | Bottiglia di acqua | botˈtiʎʎa di ˈakkwa | bot-tee-lee-yah dee ah-kwah |
| Tap water | Acqua dal rubinetto | ˈakkwa dal rubiˈnetto | ah-kwah dal roo-been-et-toh |
| Glass of water | Bicchiere d'acqua | bikˈkjɛre 'dakkwa | bee-kyeh-reh dah-kwah |
Cold non-alcoholic soft drinks like sodas and juices in Italian
Italians tend to drink water more than sodas or juices but you can, of course, find all the popular brands as well as some Italian version of classics such as lemonade or coca cola.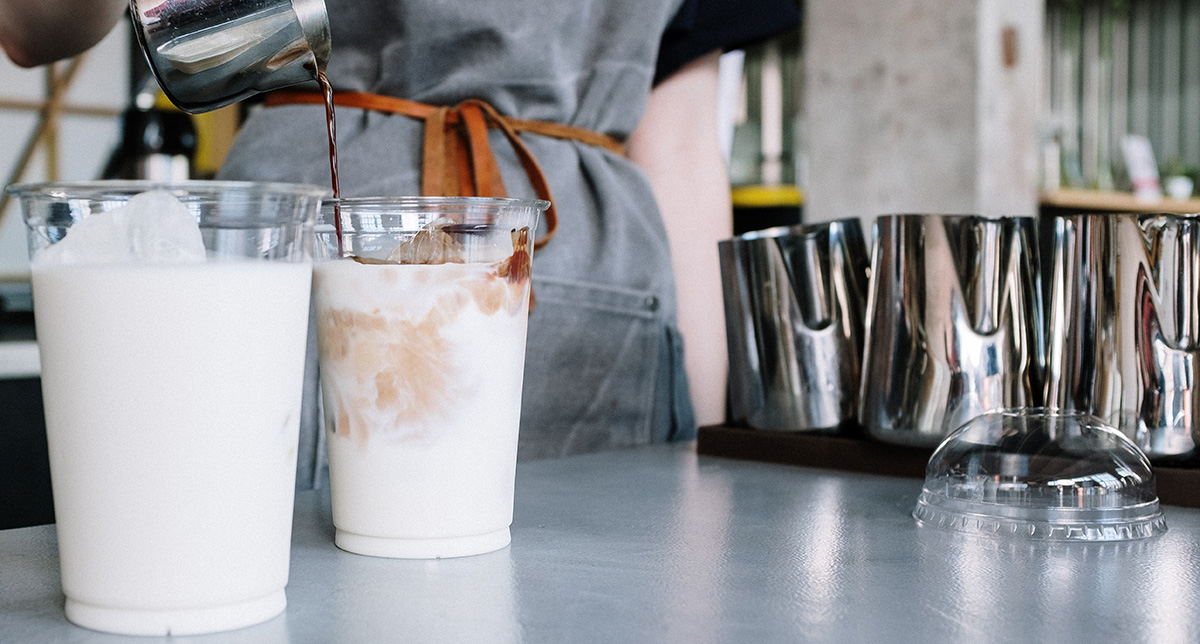 | English | Italian (Singular) | IPA | Pronunciation |
| --- | --- | --- | --- |
| Juice | Succo | ˈsukko | soohk-koh |
| Soda | Bibita gassata | ˈbibita gasˈsata | bee-bee-tah gas-sah-tah |
| Orange juice | Succo d'arancia | ˈsukko daˈrantʃa | soohk-koh dah-raan-chah |
| Lemonade | Limonata | limoˈnata | lee-moh-nah-tah |
| Milk | Latte | ˈlatte | laht-teh |
Hot drinks in Italian
Italy is world famous for its coffee which is generally served as an espresso. Most Italians drink their coffee standing at the bar, but you can also sit down at a table. Be warned that the price for sitting down can be almost double that of standing up! If you're a coffee connoisseur, then you might enjoy learning how to order coffee in Italian here, so you can immerse yourself truly in Italian culture.
If you don't like coffee, you can easily find other options, such as tea or hot chocolate, which is popular in winter. Unlike in other countries, hot drinks don't come in different sizes so forget about ordering a tall cappuccino! You'll also find hot drinks available in restaurants, although Italians never pair them with a meal.
| English | Italian (Singular) | IPA | Pronunciation |
| --- | --- | --- | --- |
| Coffee | Caffè | kafˈfɛ | kahf-feh |
| Tea | Tè | te | teh |
| Hot chocolate | Cioccolata calda | tʃokkoˈlata ˈkalda | chohk-kohlah-tah kahl-dah |
| Chai latte | Chai latte | tʃaɪ ˈlatte | chai laht-teh |
| Cappuccino | Cappuccino | kapputˈtʃino | kahp-pooh-chee-noh |
| Espresso | Espresso | esˈprɛsso | es-press-oh |
| Drip coffee | Caffè filtro | kafˈfɛ ˈfiltro | kahf-feh feel-troh |
| Herbal tea | Tisana | tiˈzana | tee-za-nah |
Mixed alcoholic drinks and cocktails in Italian
Cocktails and mixed alcoholic drinks are generally drunk in the evening in Italy but again, they are available all day in bars. Bartenders in Italy rarely measure their pours, so be prepared for some strong cocktails!
If you want something lighter or you don't drink alcohol, you can always ask for a non-alcoholic cocktail which will generally be prepared with fresh juices. Either way, make sure you conquer how to say cocktails in Italian so you can confidently order whatever tickles your tastebuds.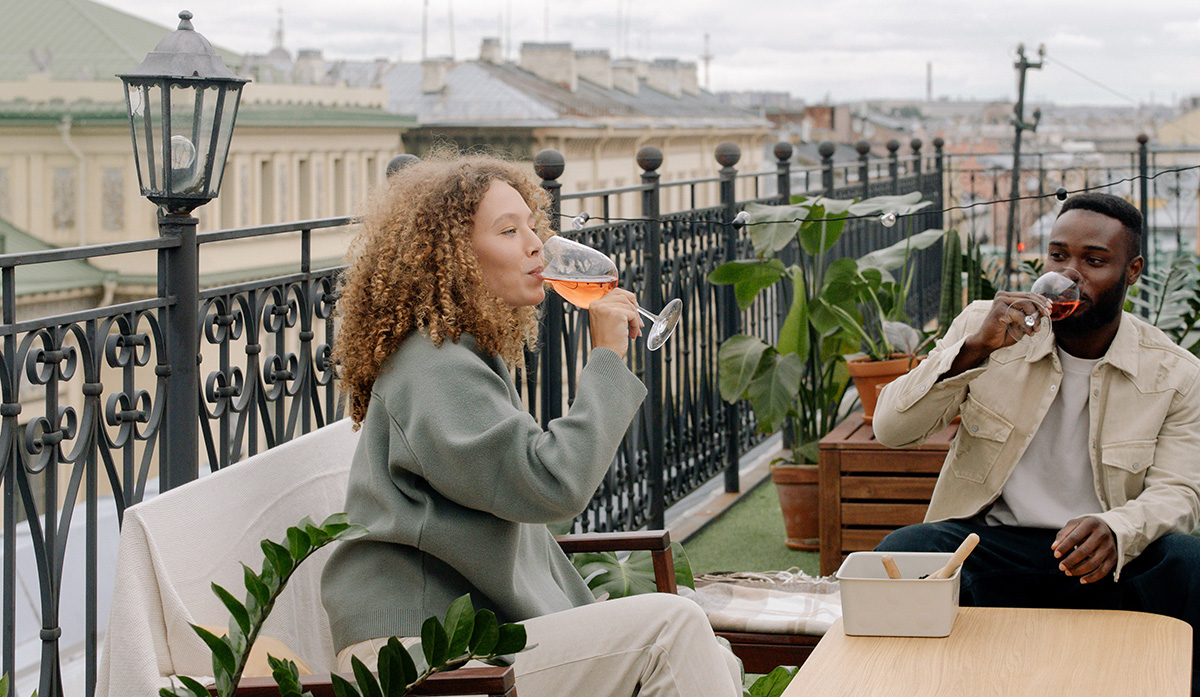 | English | Italian (Singular) | IPA | Pronunciation |
| --- | --- | --- | --- |
| Margarita | Margarita | maɾgaˈɾita | mar-gar-eet-ah |
| Gin and tonic | Gin tonic | dʒin toˈnik | jeen toh-nik |
| Aperol spritz | Aperol spritz | 'aperol 'sprits | ah-per-ol sp-ritz |
| Rum and coke | Rum e coca | rum e ˈkɔka | room eh coh-cah |
| Negroni | Negroni | ˈnegroni | neh-gron-ee |
| Vodka and tonic | Vodka tonic | toˈnik | vod-kah toh-nik |
| Whisky and coke | Whisky e coca | ˈwiski e ˈkɔka | wis-keh eh coh-cah |
| Non-alcoholic cocktail | Cocktail analcolico | ˈkɔkteil analˈkɔliko | cok-tail an-al-col-ico |
Beer in Italian
Unlike in many other countries, Italians generally only drink beer in the evening when they meet up with friends or go for a pizza, but you can of course order one at any time of the day.
While many big-name Italian beers, such as Peroni and Moretti, are now owned by multinationals, Italian has a burgeoning craft beer scene which you'll definitely want to check out if you're a beer lover. For now, learn how to master all types of beer in Italian, and you'll be golden. We've got a comprehensive article on ordering beer in Italian perfectly here too, if you're an Italian beer aficionado.
| English | Italian (Singular) | IPA | Pronunciation |
| --- | --- | --- | --- |
| A pint of beer | Una pinta di birra | 'una ˈpinta di ˈbirra | oo-nah peen-tah dee beer-rah |
| Ale | Birra ale | ˈbirra eɪl | beer-rah ale |
| Lager | Birra lager | ˈbirra 'laɡer | beer-rah lah-ger |
| Stout | Stout | staʊt | stout |
| Craft beer | Birra artigianale | ˈbirra artidʒaˈnale | beer-rah ar-tee-jan-al- |
| Light beer | Birra leggera | ˈbirra ledˈdʒɛra | beer-rah led-jer-ah |
| Non-alcoholic beer | Birra analcolica | ˈbirra analˈkɔlika | beer-rah ann-al-col-lee-cah |
| Low-carb beer | Birra senza glutine | ˈbirra ˈsɛntsa 'glutine | beer-rah sen-sah gloo-tee-neh |
Wine in Italian
Italy is one of the world's largest wine producers and wine, or vino, is a very important part of the culture. While you are probably familiar with Chianti, prosecco, and pinot grigio, there are thousands of varieties of wine to try. Wine is mainly drunk in restaurants and wine bars, and you will almost always be offered the chance to try the house wine "vino della casa." If you prefer a bottle, make sure to ask for the wine list, "la lista dei vini."
| English | Italian (Singular) | IPA | Pronunciation |
| --- | --- | --- | --- |
| House wine | Vino della casa | ˈvino ˈdella ˈkasa | vee-no dell-lah cah-sa |
| White wine | Vino bianco | ˈvino 'bjanko | vee-no bee-an-co |
| Red wine | Vino rosso | ˈvino ˈrosso | vee-no ross-so |
| Rosé | Vino rosato | ˈvino roˈzato | vee-no roz-at-oh |
| A glass of wine | Un bicchiere di vino | un bikˈkjɛre di ˈvino | oon bee-kyeh-reh dee vee-no |
| Mulled wine | Vin brulé | vin bru'le | veen broo-lay |
| Sparkling wine | Spumante | spuˈmante | spoo-man-tay |
| Wine list | Lista dei vini | 'lista 'dei 'vini | leest-ah day vee-nee |
Drink-related verbs
As well as knowing how to say a range of different drinks, you'll also need to learn some verbs to use with them.
| English | Italian (Singular) | IPA | Pronunciation |
| --- | --- | --- | --- |
| To drink | Bere | ˈbere | beh-reh |
| To be thirsty | Avere sete | aˈvere 'sete | ah-veh-reh seh-teh |
| To be potable | Essere potabile | ˈɛssere poˈtabile | ess-er-eh pot-ab-eel-eh |
| To be drunk | Essere ubriaco | ˈɛssere 'ubriako | ess-er-eh oob-ree-ak-oh |
| To be tipsy | Essere brillo | ˈɛssere ˈbrillo | ess-er-eh breel-oh |


Other important drink-related vocab
As well as knowing drinks and related-verbs, it's useful to know some other vocabulary you might need when ordering a drink.
| English | Italian (Singular) | IPA | Pronunciation |
| --- | --- | --- | --- |
| Cup | Tazza | ˈtattsa | tat-zah |
| Mug | Tazza grande | ˈtattsa ˈgrande | tat-zah gran-deh |
| Glass | Bicchiere | bikˈkjɛre | bee-kyeh-reh |
| Wine glass | Bicchiere da vino | bikˈkjɛre da 'vino | bee-kyeh-reh dah vee-no |
| Pint glass | Bicchiere da birra | bikˈkjɛre da 'bira | bee-kyeh-reh dah bee-rah |
| Sippy cup (kids) | Tazza per bambini | ˈtattsa per bamˈbini | tat-zah per bam-bee-nee |
| Plastic cup | Bicchiere di plastica | bikˈkjɛre | bee-kyeh-reh dee plah-stik-ah |
| Straw | Cannuccia | kanˈnuttʃa | can-oo-chah |
| Cheers! | Salute! | saˈlute | sal-oo-teh |
| With ice | Con ghiaccio | kon ˈgjattʃo | con ghee-ach-oh |
| Without ice | Senza ghiaccio | ˈsɛntsa ˈgjattʃo | sen-sah ghee-ach-oh |
| Bottle | Bottiglia | botˈtiʎʎa | bot-tee-lee-yah |
| Pitcher / jug | Caraffa | kaˈraffa | car-aff-ah |
| Can | Lattina | latˈtina | lah-teen-ah |
| A shot | bicchierino | bikˈkjɛrino | bee-kyeh-reen-oh |


Where to go out for a drink in Italy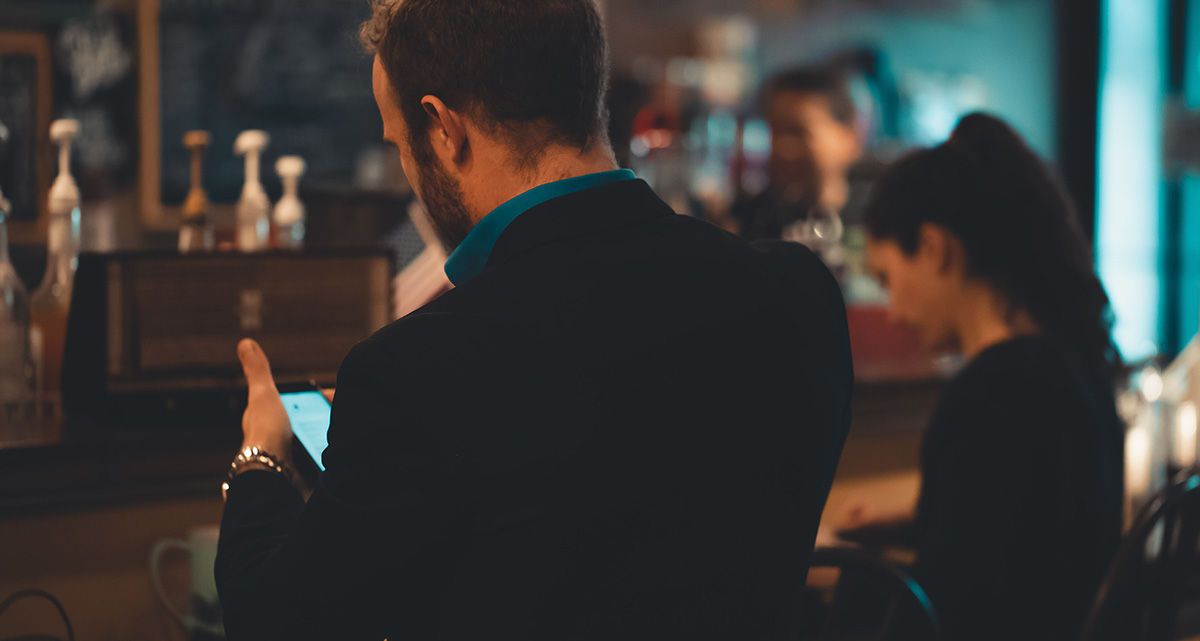 Most Italians have their first drink of the day in the early morning when they go to a bar for coffee. Bars in Italy can open from as early as 5 am to cater to the early risers and will be particularly busy around train and bus stations between 6 am, and 8 am as people begin their commute.
Bars generally stay open throughout the day, selling a wide range of alcoholic drinks in addition to soft drinks and coffees, but in some smaller towns, you may find they close for a few hours in the afternoon.
Restaurants open at fixed times for lunch and dinner, although you may find some restaurants open all day in touristy areas. In Italy, it's not common practice to go to a restaurant for a drink, so if you don't want a meal, it's far better to go to a bar.
Kiosks are another excellent option for getting a drink. Like bars, they sell a range of alcoholic and non-alcoholic drinks and generally offer lower prices than bars.
In bigger towns and cities, you will also find specialty wine bars, craft beer bars, cocktail bars, and pubs. These don't tend to open until around 7 pm and cater mainly to the after-dinner crowd, often staying open till around 3 am!
Popular drinks in Italy
As we've already mentioned, wine and coffee play a big part in Italian culture, but they're not the only popular drinks. Let's take a look at two other important drink categories.
1. Aperitivo
An aperitivo, simply translated as a "pre-dinner drink," actually comes from a Latin word meaning "to open." The idea is that by having an aperitivo you are 'opening' your stomach in preparation for the following meal.
During the week, Italians often go for an aperitivo in the early evening, from 5 pm onwards. However, at the weekend, you'll see people going for a pre-lunch aperitivo from 11 am onwards.
Traditional Italian aperitivi fall into two categories: bitter spirits, which are low in alcohol, such as Aperol or Campari, and aromatized wines, such as Vermouth. Nowadays, it's also common for an aperitivo to be wine, prosecco, beer or even a cocktail such as a Negroni - there are no hard and fast rules!
Italians believe it is important to serve food together with alcohol, so a selection of savory snacks such as nuts, focaccia or olives is usually served alongside the drink. These are included in the price and are part of the concept of aperitivo.
2. Digestivo
As you might have guessed from the name, a digestivo is a strong liquor drunk after meals to aid digestion. Digestivi are generally served neat and should be sipped, similar to how you would drink a good Scotch.
Italy produces a range of digestivi made from alcohol, fruit, and sugar, but the most famous is undoubtedly Limoncello. This is one of the sweetest and lowest in alcohol of the digestivi, making it a popular choice. Although Limoncello is mass-produced, many businesses still make their own, and you may even be offered a complimentary glass in a restaurant at the end of your meal.
Sambuca is another favorite traditionally made from the Sambucus plant but is now produced commercially using star anise and a range of herbs. Sambuca is often served con la mosca, meaning "with a fly," referring to the custom of adding coffee beans to the drink. Don't be surprised if your server sets fire to it before serving!
Grappa is not for the faint-hearted! This liquor can be clear, golden, or brown, and it lacks the sweetness of limoncello and sambuca, being more similar to brandy. Grappa is made from the skins of grapes which have been pressed to make wine. Like with wine, the type of grapes used influence the spirit's flavor. The skins are fermented and then distilled, resulting in a spirit with an alcohol content of around forty percent. Some grappe are also aged for a period of eighteen months or longer, earning them the classification of riserva or "reserve."
You can add both sambuca and grappa to an espresso to make what is known as a caffè corretto – or "corrected coffee" – a true after-dinner pick-me-up!
Well, that was thirsty work!
We wouldn't be surprised if this article has put you in the mood for a glass of your favorite tipple! There was a lot of vocabulary in this article, so you'll probably need to review it a few times to build your confidence with practice, and what better way to do that than while sipping on your favorite drink?
If you also start thinking about food, why not check out our article on ordering food in Italian.
Now, here's to you. Cheers! Salute!
If you love learning Italian vocabulary for free, remember to explore our free Italian learning blog.