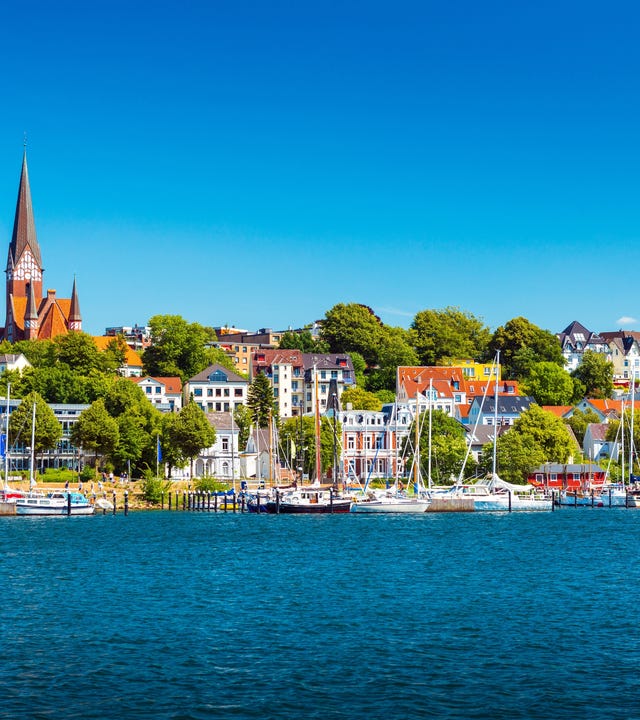 Flensburg Language Center
Address:
Holm 22–28
24937 Flensburg, Schleswig-Holstein
Office Hours:
Monday–Thursday

08:00–17:30

Friday

08:00–17:00
Welcome to the Berlitz language school in Flensburg

The northernmost of our German Berlitz Centers is located in the old town of Flensburg, near the historic lane of Rote Straße and the Nordertor gate. Because Denmark is so close, Danish is one of the most popular languages taught at our Flensburg language center – in addition to German, English, and French. A student lounge with a kitchenette and a computer area create a pleasant learning environment where our course participants like to spend time conversing during breaks or preparing for class. In addition to individual instruction and group courses, Berlitz Flensburg also offers company courses, business seminars, and state-subsidized courses. Please contact us if you'd like to find out more about our wide range of course offerings.
These are some of the languages you can learn with Berlitz Flensburg:
Why you should choose the Berlitz Center in Flensburg
Easy to reach: You can reach our Flensburg Berlitz Center quickly by car or using public transportation. Coming by car, you can park in the City Süderhofenden parking garage, which is less than a five-minute walk from our language school. The Flensburg Stadttheater bus stop is right next to the Berlitz Center.
Official test center: At Berlitz Flensburg, you can not only learn languages and advance your professional development, but also take internationally recognized language tests such as the telc German examination.
State-subsidized language courses: Our course offerings include BAMF-subsidized German for Professional Purposes (DeuFöV) and integration courses. We also offer business language courses in English and German that can be subsidized by the Federal Employment Agency.
Your Berlitz Team in Flensburg
Heiko Golde
Senior Center Director
Your contact for all language courses, either directly in the Berlitz Flensburg Center or in the Online Classroom.
Indra-Diana Utech
Senior Manager Corporate Services
Your contact for business trainings in Flensburg and area as well as for language courses in the Online Classroom.
FAQs
How old do I have to be to participate in one of the language courses?
Young people ages 12 years and older can learn a language at our Flensburg language center. For younger children, we offer a selection of Live Online language courses.
What courses do you offer for businesses?
In general, Berlitz offers intercultural trainings and business seminars besides language courses. We are the further education partner of over 4000 business partners. Our corporate sales team in Flensburg is happy to help you find the perfect course options for your company.
When does the next course begin?
At the Flensburg Berlitz Center, new courses begin at regular intervals. Please contact us to find out when the next suitable language course for you will start.
Find out more
Contact us today with your questions. We can work together to find the course that's right for you – with no obligation on your part. Your Berlitz team will contact you shortly.