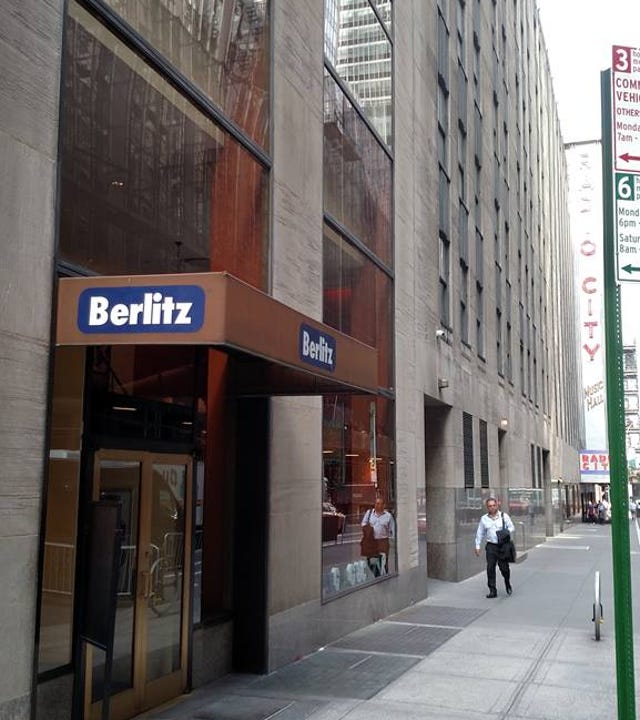 New York City Language Center
Address:
40 West 51st Street - Rockefeller Center
New York, New York 10020
Hours:
Monday - Friday

8:00AM - 9:00PM

Saturday

9:00AM - 4:30PM

Sunday

Upon Request
About New York City Language Center
This Berlitz Study Abroad location is a Student and Exchange Visitor Program (SEVP)-certified school and can enroll F-1 students. This location can process and support I-20s.
In the heart of New York City, the Berlitz Learning Center at Rockefeller Center offers innovative language classes, global leadership training and cross-cultural solution for business professionals, international students and private individuals. Study English as a second language or learn Spanish, German or another language for business or personal interest.
Our language instruction features the proven-effective Berlitz Method®. We offer flexible programs for adults and children as well as for executives, government employees and other busy professionals. Through corporate partnerships, Berlitz training is eligible for many tuition assistance programs. Our unique learning programs also include Berlitz Study Abroad programs for international students. In addition, we provide relocation programs for international assignees and their families, embassy staff, international travelers and employees of multinational corporations. We hold classes mornings, afternoons and evenings at our Learning Center or at your location.
Berlitz has taught millions of people across the globe to speak new languages quickly and effectively. Our experienced, native-fluent instructors helping you learn practical language skills you can use right away. You can expect engaging, up-to-date materials, customizable content, consistent high quality—and most importantly measurable results.
Our state-of-the-art Learning Center offers an exceptional location, close to public transportation and within easy walking distance of Fifth Avenue, Rockefeller Plaza, Times Square, the Top of the Rock and many other attractions in midtown Manhattan. We are conveniently situated close to many excellent hotels and restaurants. Whether you want French classes, Spanish lessons, English as a Second Language, cultural consulting solutions or programs for children and teens, you will find the services you need at the Berlitz New York Learning Center.