Choose how you want to learn Bulgarian online
We offer private and group online options for learning Bulgarian.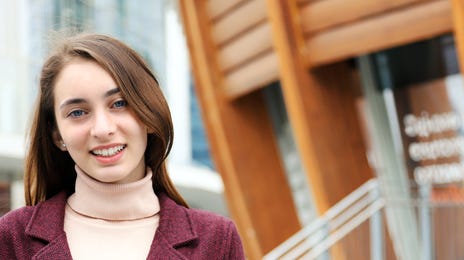 Why Learn Bulgarian Online at Berlitz
One of the most ancient cultures in Europe, Bulgaria was founded at a time when Europe consisted of just the Eastern and Western Roman Empires. In fact, the Cyrillic script originated in Bulgaria and is used in Russian and Serbian, making Bulgarian a good bridge into other Slavic languages.
Learning Bulgarian requires expert guidance, and when you learn online with Berlitz, that's precisely what you get, thanks to our native level speaking trainers who are committed to helping you achieve your language goals.
Benefits of learning Bulgarian online at Berlitz
A century of success
You will enjoy an education from the language experts. At Berlitz, we have been training languages for over a century, so we have the proven experience behind our methodology.
Online classes to study from wherever you are
You're busy. We understand that. That's why our online learning lets you study wherever you want so that you can fit learning around your life.
Study at your own pace with total flexibility
Not everyone learns at the same pace. That's why we let you customize your schedule to suit how fast or slow you would like to learn.
Intensive courses available
Do you need to learn Bulgarian quickly? Our intensive courses are a deep dive into the language and culture and will give you a robust set of skills that you can use to converse naturally in any social situation.
Certified and experienced teachers
Our Berlitz language trainers are qualified as native-level speakers and are committed to supporting you in your learning journey.
How learning online works with Berlitz
Frequently asked questions (FAQs)
Firstly, you'll need to lay the foundations for success. What are your goals? Write them down and then break them into smaller mini-goals.
For example, your bigger goal might be, "I want to be able to have the confidence to speak to locals and business people when I travel to Bulgaria in six months." To achieve that bigger goal, you could set a small goal that says, "I will dedicate 10-15 minutes daily to practising Bulgarian, for at least six months."
Your personal success will be tied to your own intrinsic motivation, perseverance, and, most importantly, attitude to language learning. And at Berlitz, we can help you fast-track your fluency with our proven technique and expert language trainers.
Simply put, you get out what you put in. That means the more time you invest in language learning, the more quickly you'll progress. With Berlitz, we use a proven technique known as the Berlitz Method, an immersive way of learning that gets you speaking from day one with fast, effective results. We also recommend exploring TV and film in Bulgarian (optional English subtitles) and reading Bulgarian books to support your learning.
Yes, much of the content in our online courses are downloadable, so you can access it even when you're not connected to the Internet.
Schedule a free demo
Fill in the form below and an enrollment advisor will contact you to set up a free demo and discuss our language options with you.