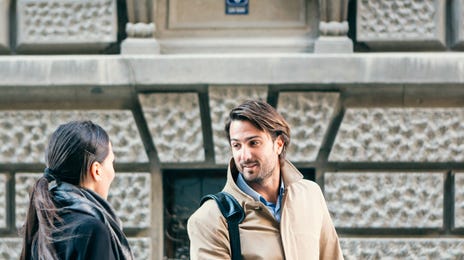 Learn Dutch fast and effectively
When you want to learn Dutch fast, there is no better option than Berlitz. Our immersive methods for learning a new language will have you speaking Dutch during your first lesson!
We not only have a proven methodology, but we offer a variety of Dutch class options to make it easy to choose the best way for you to learn. You can choose from private and group course options and also choose between online and in-person courses. 
Benefits of learning Dutch
Dutch is the main language of the Netherlands and is a common language across much of Europe, particularly in Belgium. The ability to speak Dutch will not only make travel in Europe easier but will also open travel opportunities in the Caribbean, including Aruba, Bonaire and Curaçao. 
Speaking Dutch can open up much more than travel. The Dutch culture is rich and diverse. Being fluent in Dutch can open up new opportunities in food, music, sports and much more. 
What our learners say
"The one-on-one Berlitz course was perfectly suited for my needs. I will be signing up for it again soon"

John, USA
Schedule a free demo
Fill in the form below and an enrollment advisor will contact you to set up a free demo and discuss our language options with you.