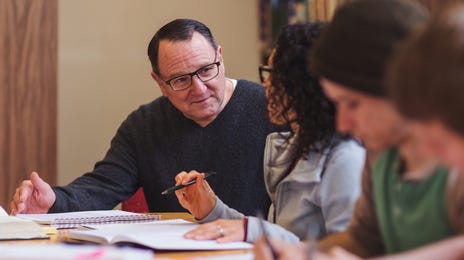 The best way to learn Hungarian
Speak Hungarian with confidence thanks to the Berlitz method. Your Hungarian lessons will submerse you in the language through practical exercises and challenges that will have you speaking the language faster than you ever imagined possible.
No matter how busy you are, how you like to learn, or the pace you like to learn at, our Hungarian lessons will fit flexibly around your life.
How Hungarian lessons with Berlitz work
At Berlitz, our Hungarian lessons take the theory off the page and give it life through fun, practical and challenging exercises that have you spending 80% of your class time actively speaking Hungarian.
People often ask us 'how to learn Hungarian' and the answer is simple: by speaking it. That's why we'll get you to speak the language from your first lesson.
You're guaranteed a high-quality education thanks to Berlitz' 140 years' experience teaching people just like you.
You can tailor your learning to fit around your life with our flexible learning options.
We welcome all ages and offer appropriate Hungarian classes to suit teens, kids and adults.
If you want to train your employees to speak Hungarian, we can create a course to suit your needs.
Open your world with Hungarian
Hungarian is a wonderful challenge for anyone interested in language with its own unique alphabet, no grammatical gendered words, and a sonorous flow. In fact, the more you learn, the more you'll begin to appreciate the literature, folk sayings and poetry that can only truly be understood in Hungarian.
Having a working knowledge of the language will also help to unlock doors to adventures outside of the usual tourist traps, as well as business opportunities. It will also give you a deeper appreciation for the cultural richness produced in the nation's art, history, performance, food and natural wonder.
What our learners say
"The one-on-one Berlitz course was perfectly suited for my needs. I will be signing up for it again soon"

John, USA
Schedule a free demo
Fill in the form below and an enrollment advisor will contact you to set up a free demo and discuss our language options with you.