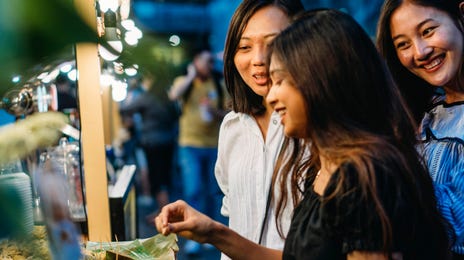 The best way to learn Thai
Learn Thai with Berlitz and open up a world of history, art, culture, adventure and culinary wonders. Our proven method of training is both immersive and practical and will have you speaking the language from your very first Thai lesson.
We also offer flexibility, so you can fit your Thai classes around your lifestyle.
How Thai lessons work with Berlitz
We often get asked how to learn Thai and our answer is through immersion. 80% of all your Thai lesson time will be spent actively speaking the language.
Through practical exercises and challenges, you will begin speaking Thai from day one.
Berlitz has over 140 years' experience teaching language, so you can be certain our Thai lessons will help you reach your goals.
You can fit learning around your life thanks to our flexible study options.
We cater to kids, teens and adults.
We can create Thai courses specifically for business groups looking to get language skills fast.
Open your world with Thai
Whether you're travelling, working or doing business in Thailand, having a practical understanding of the language will open up doors to you. You will gain a deeper understanding of the people and the environment and will stand out as someone who is respectful and worth talking to. It is also extremely useful, as outside of the hospitality industry, it is rare for the locals to speak English. Your Thai lessons will give you the skills to have real conversations no matter where you are in Thailand.
What our learners say
"The one-on-one Berlitz course was perfectly suited for my needs. I will be signing up for it again soon"

John, USA
Schedule a free demo
Fill in the form below and an enrollment advisor will contact you to set up a free demo and discuss our language options with you.