Choose how you want to learn Thai online
We offer private and group online options for learning Thai.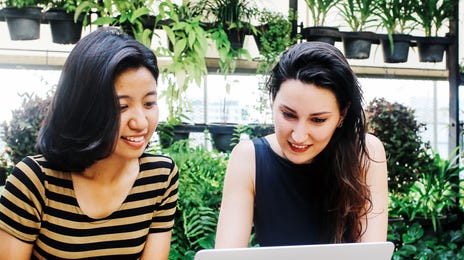 Why Learn Thai Online at Berlitz
Keen to appreciate Thai culture on a whole new level, conduct business in Bangkok or looking to get ahead in your career? When you learn Thai online with us at Berlitz, you're not just learning a language, you're opening your world to a whole new culture.
Berlitz online Thai lessons offer you the flexibility and practicality to fit learning around your life, whenever you want, and from wherever you want. Our online Thai language lessons, enable you to make better use of your time and organise your schedule appropriately to fit language learning into your day.
Keep reading to learn everything you need to know about learning Thai at Berlitz.
Advantages of learning Thai online at Berlitz
Flexibility:
Our online Thai courses at Berlitz offer you maximum flexibility, and you can choose when, where and how often you want to practice Thai online.
Individuality:
Every person is different. At Berlitz, we intrinsically understand this, and that's why all of our online Thai classes are designed to meet our students' personal needs.
Progress:
Our students are only as good as our learning methods. That's why we use technical innovations to optimize our Thai classes continuously.
Experience:
We've been around for over 140 years. We've used this time to pass on proven learning processes (including our widely successful Berlitz Method) to our language teachers to apply in their teaching.
Universality:
Learning a new language also means learning to think outside the box. Therefore, it is essential for us to integrate cultural contexts and specifics into our language courses.
How learning online works with Berlitz
Frequently asked questions (FAQs)
That depends entirely on your personal learning goals and how quickly you plan to achieve them. We recommend practising as often as possible, even if it's only a few minutes a day. The more you put in, the more you'll progress.
However, you are not required to practice daily, and we have many courses of varying intensity so that busy participants also have the opportunity to cope with their course workload.
We are aware that everyone has their own learning pace and that everyone has different amounts of time available to learn Thai online. Therefore, we have found different options to offer our students a choice of language courses that best suit their learning pace.
Thai script is different to Western languages, which means a whole new set of characters to learn. But with perseverence and dedication, students often find they pick things up quicker than they thought.
Schedule a free demo
Fill in the form below and an enrollment advisor will contact you to set up a free demo and discuss our language options with you.