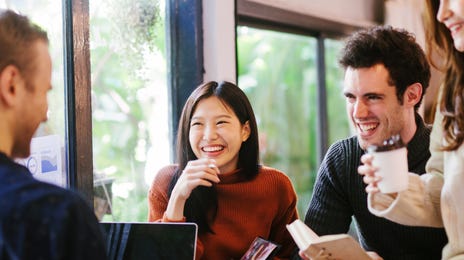 Learn Turkish with Berlitz
Immerse yourself in the Turkish language and learn to converse like a native speaker with our Berlitz method. Whether you're learning for work, travel or fun, our Turkish lessons will give you a comprehensive understanding of the language, as well as the cultural nuances of delivery that make the difference between a casual speaker and someone fluent in the language.
Benefits of taking Turkish classes with Berlitz
Having operated for over 140 years teaching thousands of people just like you, Berlitz has a proven track record of success.
Our Berlitz method gets you to speak the language from your very first Turkish lesson.
80% of your Turkish classes will be spent speaking the language to get you chatting like a local in no time.
We tailor our Turkish courses to different age groups including adults, children, and teens.
We offer bespoke Turkish lessons for groups of company employees who need specific language skills.
Open your world with Turkish
The Turkish language is spoken across the globe by over 75 million people. Geopolitically Turkey is geographically and culturally linked to Europe, Central Asia, and the Middle East. As the world's 16th largest economy, Turkey plays a role in the world's political, economic and social stages, and as such learning Turkish can be especially useful for people with business, education or travel interests in Europe, Central Asia or the Middle East.
What our learners say
"The one-on-one Berlitz course was perfectly suited for my needs. I will be signing up for it again soon"

John, USA
Schedule a free demo
Fill in the form below and an enrollment advisor will contact you to set up a free demo and discuss our language options with you.