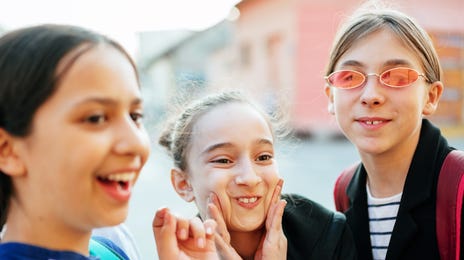 French for kids with Berlitz
Learning a language at a young age provides value for the rest of their lives. Our French classes for kids make learning fun and effective by:

Using interactive activities, challenges and rewards
Incorporating cultural lessons
Immersing young learners in the language
Offering multiple course options
Live online French classes for kids options
Live online private
1:1 real-time lessons with a Berlitz instructor
Custom learning plans developed for specific goals
Flexible payment plans
Live online semi-private
Real-time lessons with 2-3 learners with a Berlitz instructor
Structured learning plans designed for maximum retention
Flexible payment plans
French for kids FAQs
The best way to learn French at a young age is immersion. When a young learner is completely immersed in the language, the brain is able to retain more information as a result of repetition. 
Immersion also helps to increase confidence speaking French, which helps young learners practice. 
The first thing to do when it comes to helping your child learn French is to enroll them in a French course. Working with professional instructors not only provides access to a native speaker, but it also structures the learning plan to hit milestones to build on.
Outside of regular lessons, some tips to help your child learn French are:
Watch familiar videos in French
Buy basic learning books in French
Set aside regular times to practice with them
Look for other learners their age and schedule dates to meet with them
The time it takes to become conversational depends on how much time you dedicate to learning. If you enroll your child in an intensive, private immersive French course, they will become conversational much quicker than if they use a language app sporadically.
Your child will also become conversational faster if they are exposed to the language regularly outside of actual lessons. 
According to multiple studies, the optimal time to start learning French is between 8 and 12 years old. This age range is when the brain experiences accelerated growth, as well as the age when young learners will be most engaged with learning. 
While this is the optimal age to learn, it is never too late to start learning French for kids or adults. 
We make learning French for kids fun
The truth is kids are more likely to learn when they are having fun. No matter how interested they are in a subject, if they aren't having a good time when they are learning, they aren't going to retain much of what they learn. 
At Berlitz, our Live Online courses are specifically designed to keep young learners engaged and having fun. We do this by:
Interacting in real-time directly with learners
Using games and challenges during lessons
Building activities that learners can complete outside scheduled lessons
Having milestones and rewards as learners progress through the course
Call Us
---
Find out more
Fill in the form below and we'll contact you to discuss your learning options and answer any questions you may have.