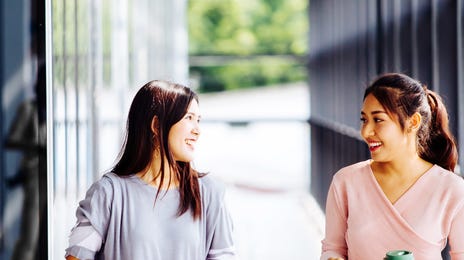 A fast, effective way to learn Spanish online
If there are two things that are important for learning Spanish online, they are: fast and effective. 
With our online Spanish classes, you will start speaking on day one and will progressively move through lessons designed to increase your comfort and confidence with the language. This way, you will learn fast and get something out of every lesson that you can build on. 
Choose how you want to learn Spanish online
Have questions?
You can speak to an Enrollment Advisor to discuss your budget, goals and timeline so we can figure out the best course option for you. We can also schedule a demo lesson so you can get an idea of what our immersive lessons are like.
What does it take to learn Spanish online?
Language encompasses so much that it actually takes a lot to learn a new one. That is why when you learn Spanish online, you will need to learn a lot of different skills, all of which when combined together, will make you comfortable speaking in front of anyone; even native speakers!
So, what do you need to know to become conversational in Spanish?
Learn Spanish vocabulary
Language starts with words. That means starting your Spanish language journey by learning Spanish vocabulary. 
Our vocabulary lessons are built into speaking. Rather than isolating vocabulary lessons to reading words out of a textbook, you will learn words and phrases by speaking them. This way, when it comes time to actually use the words or phrases, you won't just know them, but will also know how to use them.
Learn Spanish grammar
Words and phrases may be the starting place for learning Spanish, but without grammar, you will never be able to actually make use of them. When you learn Spanish grammar, you learn how to take those words and bring them to life.
Just like our vocabulary lessons, our grammar lessons are based on speech. The goal of learning grammar is to help you build sentences to speak correctly, so that is what we focus on. 
Learn Spanish conversation
Every Spanish learner wants to become conversational in Spanish. Yet, most Spanish courses focus most of their time on reading and writing.
With Berlitz, we focus all of our attention on learning Spanish conversation skills. The more you speak Spanish, the more comfortable you get. Speaking the language also gives you a greater appreciation for the beauty of the language and the importance of non-verbal communication skills. 
Learn Spanish culture
At the end of the day, language is simply a tool of culture. And in order to truly feel comfortable and confident speaking Spanish, you will need to have the cultural knowledge to appreciate where the language comes from.
As you learn Spanish grammar, vocabulary and conversation skills with Berlitz, you will also learn the cultural history and importance of each of these skills. By understanding where these skills come from and why they are important, you will have a greater ability to use them. 
Frequently asked questions (FAQs)
Classes in this format can be done in several different ways, whether it's via a live instructor or self-paced study. Choose a format that best suits your routine.

Your classes can start as soon as you are enrolled. Then just choose a course module, and start learning step by step how to communicate in the new language with the support of our team.

Berlitz is a language school that has been on the international market for many years, bringing success to an incredible range of people of different nationalities.

Spanish is one of the most spoken languages in the world. With Spanish speakers across the globe, when you learn Spanish, you will unlock opportunities all over the world.

You should learn Spanish to:
Improve professional opportunities
Open the world of travel
Find new interests and hobbies
Gain an appreciation for numerous cultures
You get in what you put out. To be fluent you will have to be consistent and dedicate yourself to achieving your goals. We'll give you all the tools, support and confidence you need to achieve this.

Find out more
Fill in the form below and we'll contact you to discuss your learning options and answer any questions you may have.