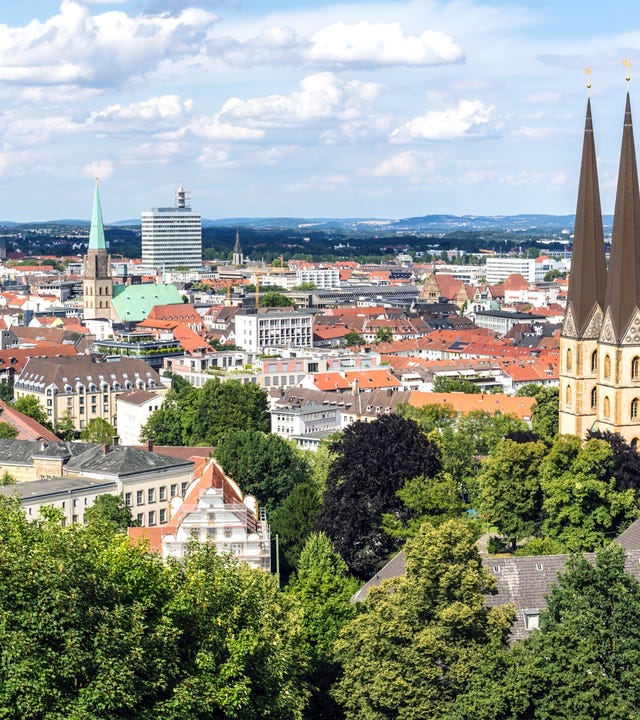 Bielefeld Language Center
Address:
Jahnplatz 6
33602 Bielefeld, Nordrhein-Westfalen
Office Hours:
Monday–Friday

8:00–16:00

and by appointment
Welcome to the Berlitz language school in Bielefeld

Our modern Berlitz Center is located in downtown Bielefeld. Thanks to this central location, during breaks our course participants can enjoy the view over the Jahnplatz square from our 4th floor (4. OG) premises. Berlitz Bielefeld is close to the old city center, the Bielefeld Art Museum, and the historic Sparrenburg. Not only can you work on your language skills with our native-speaker instructors, but also develop your intercultural competence and learn to be more confident and professional in the workplace environment. At the Bielefeld Language Center, you can take part in numerous general language courses, including English, Spanish, and German, as well as business language courses such as English for the Office and German courses subsidized by the Federal Office for Migration and Refugees (BAMF).
These are some of the languages you can learn with Berlitz Bielefeld:
Why you should choose the Berlitz Center in Bielefeld
Accessible to individuals with disabilities: Our language school in Bielefeld is located on the 4th floor (4. OG) and can be reached by elevator. The classrooms and restrooms are wheelchair accessible.
Easy to reach: If you come by car, you can park in the Q-Park at Herforder Straße 9, the parking garage at Kesselbrink 1, or the Contipark at Ritterstraße 5, all of which are within walking distance of the Bielefeld Berlitz Center. If you are taking public transportation, the Jahnplatz station, which is served by bus and rail, is also nearby.
Preparation courses: Our experienced language instructors would be pleased to help you prepare for language tests such as TOEIC and TOEFL.
Official Test center: The Berlitz language school in Bielefeld is an official test center for the telc German exams. For more information, please do not hesitate to contact us directly.
State-subsidized courses: We offer German for Professional Purposes (DeuFöV), which are subsidized by BAMF, the Federal Employment Agency, or the Jobcenter. In addition, you can participate in German, English, French, and Spanish courses (individual instruction) as well as group courses with a business focus, for example English for business. Those are subsidized either by the Federal Employment Agency or the Jobcenter. We'll be happy to advise you.
Your contact at Berlitz in Bielefeld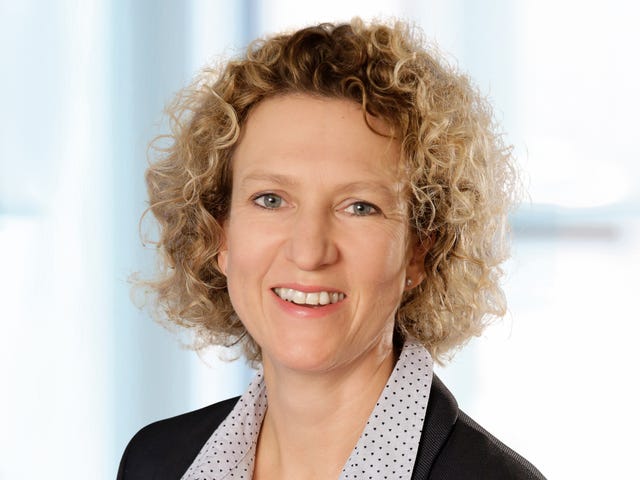 Pamela Renneke
Senior Center Director
Your contact for all language courses, either directly in the Berlitz Bielefeld Center or in the Online Classroom.
Virtual tour through the Bielefeld language school
FAQs
For what age groups do you offer language courses?
We offer a wide range of language courses for adults at our Bielefeld Language Center. For children we offer vacation courses for kids ages 8 years and older. For more information, please do not hesitate to contact us directly.
What does the typical instruction process look like at Berlitz?
Before your language course, we conduct a placement test to determine your level of proficiency; we also prepare a needs analysis for you. You receive all necessary course materials before the start of the course. Our Berlitz team will assist you during your language instruction so that you can achieve your goal. After the successful completion of the course, we will test your progress and give you a certificate of participation.
What language course offers the highest degree of flexibility?
Our Premium individual instruction and the Berlitz Total Immersion program, which is intensive individual instruction for rapid language progress, offer you the option of choosing the length of the course and how frequently language instruction should take place. If you'd like to learn a language flexibly without being tied to a specific location, we recommend you look into our online courses.
Find out more
Contact us today with your questions. We can work together to find the course that's right for you – with no obligation on your part. Your Berlitz team will contact you shortly.