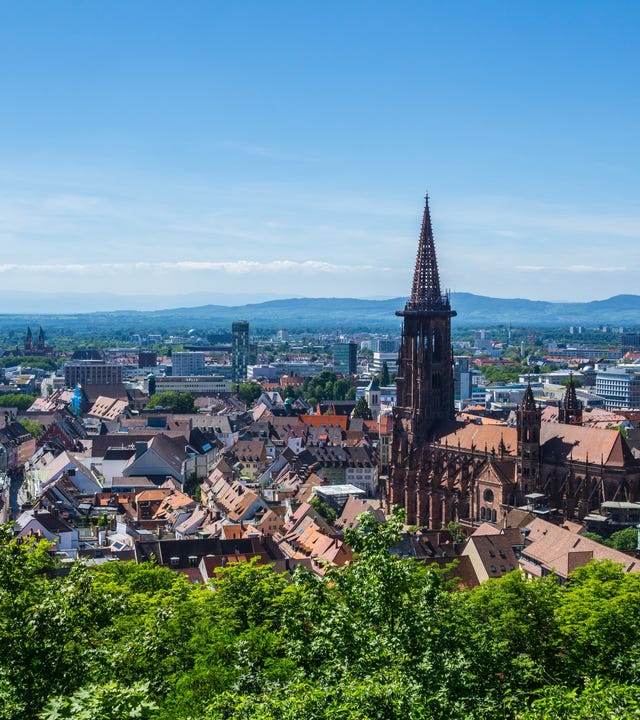 Freiburg Language Center
Address:
Bismarckallee 2A
79098 Freiburg, Baden-Württemberg
Welcome to the Berlitz language school in Freiburg

If you are looking for a language school where you can learn a new language in a hands-on and flexible manner while expanding your cultural horizons, Berlitz Freiburg is the right choice for you! Our language school in Freiburg is located in the Bahnhofsviertel neighborhood, only a few minutes' walk from the central train station, university library, and concert hall. You can learn many other languages in addition to our popular courses such as English, French, and Italian, especially through individual instruction. Our course offerings include a large number of language courses, individually tailored professional development programs for companies, intercultural workshops, management seminars, relocation training, and subsidized training programs. Our qualified team of instructors knows the importance of creating opportunities for individuals to offer suggestions and contribute to our courses so that the wishes and needs of all course participants can be taken into account.
These are some of the languages you can learn with Berlitz Freiburg:
Why you should choose the Berlitz Center in Freiburg
Well-equipped: Berlitz Freiburg is wheelchair accessible and has a lounge area with amenities such as a coffee machine, water dispenser, and two computers which our course participants are welcome to use free of charge.
Preparation courses: Our experienced team of instructors knows exactly what you need to do to prepare thoroughly for the examinations for internationally recognized language certificates such as LiD, TOEFL, and TOEIC.
Official test center: The telc German examinations can be taken right at our language school in Freiburg.
Courses for kids: At the Freiburg Berlitz Center, kids and teens can take part in the vacation courses we offer daily during the school breaks.
State-subsidized courses: Our Berlitz language center in Freiburg offers integration courses for which you can apply for funding from BAMF in Freiburg. Furthermore, we offer individual instruction that is eligible for the AVGS training voucher in the languages English, German, French, or Spanish – either in the center directly or online. Lastly, we offer Business courses in English, French, and German for professionals and executives that can be subsidized with an FbW voucher from the Federal Employment Agency.
Your contact at Berlitz Freiburg
Boris Darvich
Center Director
Your contact for business trainings in Freiburg and the surrounding area as well as for all language courses, either directly in the Berlitz Freiburg center or in the Online Classroom.
FAQs
Does the Freiburg Berlitz Center have parking spaces?
If you come by car, you can park in the Konzerthaus-/Bahnhofsgarage parking garage. If you use public transportation, we recommend that you travel to the central train station, which is located right across the street from us.
How long are classes?
One "classroom hour" lasts around 45 minutes. In most cases, classes are held once or twice a week for two to three classroom hours. If you are interested in learning a new language at a more rapid pace, we recommend one of our intensive courses.
Do I have to take a test before starting a course?
If you already have some experience with the language, we recommend taking a placement test so we can work together to find the perfect language course for you.
Find out more
Contact us today with your questions. We can work together to find the course that's right for you – with no obligation on your part. Your Berlitz team will contact you shortly.