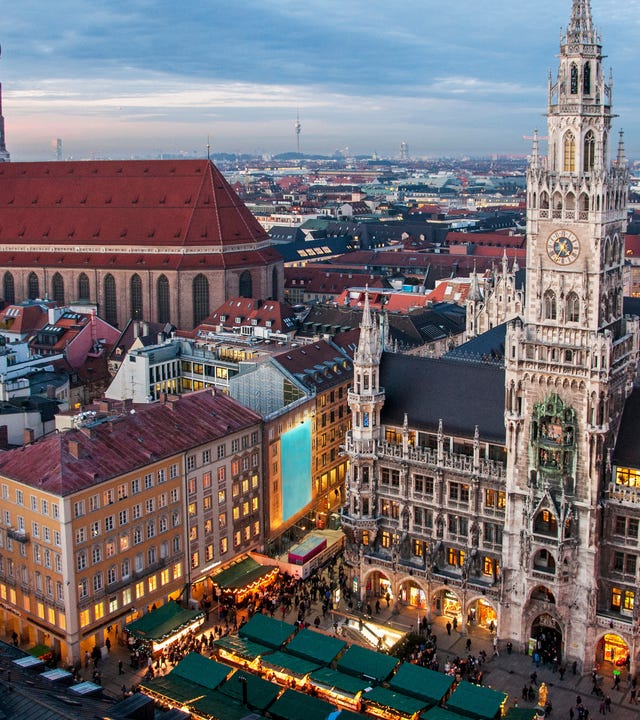 Munich Language Center
Address:
Kaufingerstraße 9
80331 Munich, Bayern
Office Hours:
Monday - Friday

08:00 - 18:00
Welcome to the Berlitz language school in Munich

Our language school in Munich can be found right in the heart of the city. Special landmarks such as the city hall, Church of Our Lady, and Hofbräuhaus tavern are all within walking distance. It is this central location which makes learning languages at our Munich Berlitz Center especially appealing to many of our participants – not to mention our popular Berlitz Method. Berlitz language schools have been around for more than 140 years, and these many years of experience have allowed us to perfect our teaching method and continuously enhance it with modern technology. This means all course participants can learn the new language quickly and efficiently, with lots of opportunities for practice. Our engaged and experienced language instructors use creative methods and content that is relevant to everyday life so you can start applying your new knowledge right away.
These are some of the languages you can learn with Berlitz Munich:
Why you should choose the Berlitz Center in Munich
Well-equipped: Berlitz Munich is wheelchair accessible and has a student lounge with a coffee machine, water dispenser, refrigerator, and several computers. All of these are available for the use of our course participants at any time.
Courses for kids and teens: For young people in grades 5 and above, Berlitz Munich offers programming classes as well as vacation courses that are held daily during the school breaks.
Preparation courses: Our native-speaker language instructors offer specific classes for the TOEIC, TOEFL, LCCI, telc, and TFI examinations, so you can feel more confident going into the test thanks to your intensive practice. This not only saves you time and money, but significantly reduces stress.
State-subsidized courses: Under the BAMF program to promote German for professional purposes, you can participate in German B2 and C1 courses at our language school in Munich. Furthermore, we offer English, Spanish, German, and French courses in individual instruction which can be subsidized with an AVGS training voucher. Group courses such as Business English as well as English courses for professionals and managers are eligible for the FbW education voucher from the Federal Employment Agency
Your Berlitz Team in Munich
Michael Klee
Senior Unit Director
Your contact for all language courses, either directly in the Berlitz Munich Center or in the Online Classroom.
Charlotte Sievers
Manager Corporate Services
Your contact for business trainings in Munich and vicinity.
Julia Augustin
Manager Corporate Services
Your contact for business trainings in Munich and vicinity.
Virtual tour through the Berlitz language school Munich
FAQs
Does the Berlitz Center in Munich have parking spaces?
You can park your car in the Hirmer parking garage, which can be found right next door to our Munich language center. If you use public transportation, the U3 and U6 lines and the S-Bahn light rail will take you to the Marienplatz stop, which is only a few minutes' walk from us.
Is it possible to take international language examinations right at the Berlitz Center?
Berlitz Munich is an official test center for the telc German, TOEIC Listening & Reading, and TOEFL ITP examinations.
How many participants are there in your group courses?
Instruction usually takes place in small groups of 4 to 6 participants.
Find out more
Contact us today with your questions. We can work together to find the course that's right for you – with no obligation on your part. Your Berlitz team will contact you shortly.