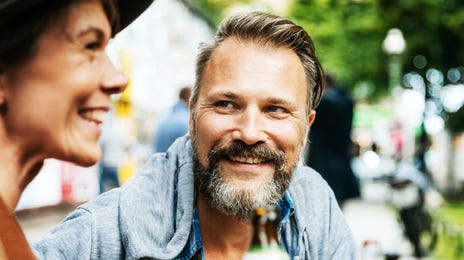 Learn Danish the best way
Learn to speak Danish fluently with Berlitz. Using our immersive technique, you will build a strong set of practical language skills that will train you to speak Danish freely and confidently in any real-world conversation. Through practice and direct feedback, you will master the idiosyncrasies of the Danish, so that you learn not only the language but the rhythm and nuance of native speakers.
We know you're busy and have different needs and goals from our other learners, that's why we offer flexible learning options, so you can choose Danish lessons that fit your life.
How Danish lessons with Berlitz work
80% of your Danish classes will be spent actively speaking Danish so that you end up with a strong skill set and the confidence to converse in any situation.
With Berlitz there's no wasted time, we'll get you speaking Danish from your first class.
We have over a century of language education behind us, so you can rest easy that when you study with Berlitz, you're in experienced hands.
Choose when, where and how you learn Danish, thanks to our flexible study options.
We cater for all age groups from children, to teenagers and adults.
Want to create a Danish course for your employees? We can tailor Danish lessons to suit your company goals.
Open your world with Danish
Renowned for its progressive outlook, Denmark is a haven for science, trade, the arts, philosophy and innovation. If you are looking to work or study in Denmark, you will need to learn the language as it is a basic requirement for working and studying.
Having a practical understanding of the language will also help you to navigate the country as a traveller and will help you get a deeper understanding of the unique culture that thrives in Denmark. As a bonus for English speakers, Danish is a relatively easy language to master – and it will also help you to understand Swedish and Norwegian as there are many commonalities between the languages.
What our learners say
"The one-on-one Berlitz course was perfectly suited for my needs. I will be signing up for it again soon"

John, USA
Schedule a free demo
Fill in the form below and an enrollment advisor will contact you to set up a free demo and discuss our language options with you.