Choose how you want to learn Hindi online
We offer private and group online options for learning Hindi.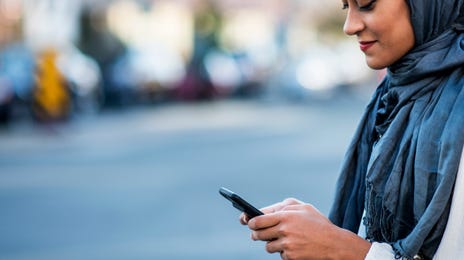 Why Learn Hindi Online at Berlitz
Whether you're growing your job opportunities in India's growing economy, want to watch a Bollywood film in Hindi without subtitles, or are simply fascinated by India, its culture and people, you've come to the right place. 
When you learn Hindi online with Berlitz, you're not just learning a language. You're opening yourself up to a whole new culture in the most practical way possible.
We have almost 150 years of teaching experience and a history full of quality and flexibility so that you can learn in a way that suits you. We've continually improved our teaching methodology and can now offer a comprehensive portfolio thanks to the latest innovations. We design our online classes flexibly to make your life easier in achieving fluency in Hindi.
As a result, you'll learn to communicate confidently and succeed in an international environment.
Advantages of learning Hindi online at Berlitz
A century of success
Berlitz has incomparable quality and a unique and exclusive teaching method with more than a century of history.
Online classes to study from wherever you are
With online lessons, you'll be able to learn to speak Hindi directly from your home or wherever you are. This makes the whole learning process much more practical, quickly taking you to your goal with ease.
Intensive courses available
This type of intensive language teaching is ideal for people who like to organize their routines and fit online classes at any time of the day that is most appropriate for them. This greatly facilitates the learning of those who have little time.
Certified and experienced teachers
With certified or native teachers always at your disposal, you will learn much more about India's culture and understand how to communicate better in the local language.
Flexibility in your routine
In our online Hindi lessons, you have all the flexibility you need to learn at your own pace, and correctly understand how to communicate.
How learning online works with Berlitz
Frequently asked questions (FAQs)
Hindi is the official language of India, alongside English. That means it's spoken and understood mostly everywhere you go in India. Other top countries with large populations of Hindi-speakers are:
Nepal;
The United States;
Mauritius
Fiji;
South Africa;
Suriname; and
Uganda.
The short answer to this question is yes! Hindi and Urdu are variations of the same language, known as "Hindustani". A speaker of Urdu and a speaker of Hindi would be able to have a conversation and understand each other, therefore are mutually intelligible.
However, each language has its own separate writing script, which means a Hindi speaker reading Urdu wouldn't understand the words if they didn't know Urdu script - and vice versa.

That depends entirely on your personal learning goals and how quickly you plan to achieve them. We recommend practicing as often as possible, even if it's only a few minutes a day. However, you are not required to practice daily. We have many courses of varying intensity so that busy participants also have the opportunity to cope with their course workload.
We are aware that everyone has their own learning pace and that everyone has different timetables available for online Hindi classes. Therefore, we have found different options to offer our learners a choice of language courses that best suit their learning pace.
Schedule a free demo
Fill in the form below and an enrollment advisor will contact you to set up a free demo and discuss our language options with you.