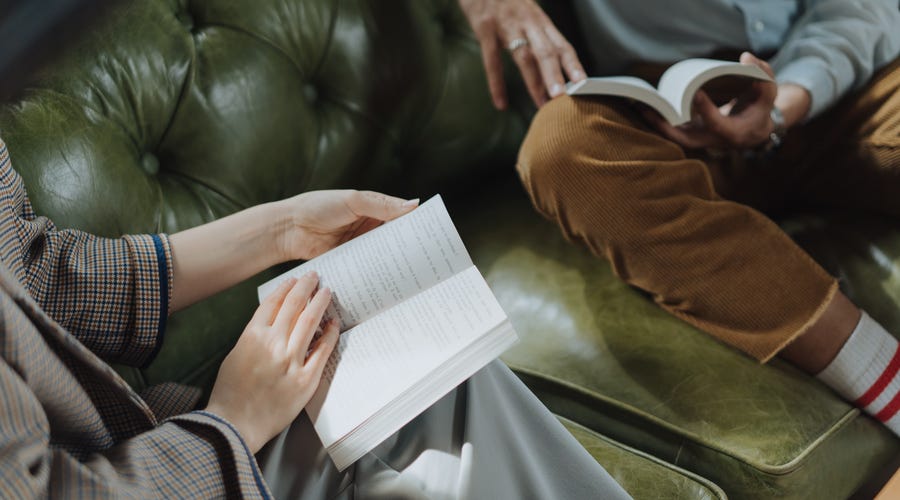 40 powerful books to help you learn new languages & cultures
Sometimes, what we really need to learn a second language is a good story. Stories not only entertain and educate us—they help us retain new information in a way that makes it easier to recall later.
Many of us already listen to podcasts or watch films in a foreign language. There's no reason why we can't branch out from textbooks and start reading literature that captivates and moves us as we pursue our studies.
So, in between grammar rules and vocab lessons, try bringing your learning alive with a short story, novel, poem, or comic book in your target language. Alternatively, enjoy reading the novel in your native language, and you can still immerse yourself in rich cultures, prose, and world-building.
As always, we have some hand-picked recommendations about our top books to learn different languages and culture to provide you with a little inspiration.
Best books to learn 10 different languages and cultures

Aura
by Carlos Fuentes
First published in 1962, this short novel set in Mexico City follows a young historian hired to edit the memoirs of an older woman's deceased husband.
La Ciudad de las Bestias
by Isabel Allende
The first young adult novel by Chilean-American writer Isabel Allende, set in the Amazon rainforest.
La casa en Mango Street
by Sandra Cisneros
Mexican-American author Sandra Cisneros tells the story of Esperanza Cordero, a 12-year-old Chicana girl growing up in the Hispanic quarter of Chicago.
El coronel no tiene quien le escriba
by Gabriel García Márquez
This book is the famous Colombian writer's own favorite novella, which he claimed to be better than both One Hundred Years of Solitude and Love in the Time of Cholera.

Le Petit Prince
by Antoine de Saint Exupéry
Considered the number-one book for French beginners, this novella follows a small boy from a tiny planet throughout the universe, charting his journey as he gains wisdom about love, loss, sadness, and friendship.
L'étranger
by Albert Camus
Best for intermediate to advanced learners, this famous novel was first published in 1942 and deals with themes of absurdist and existential philosophy.
Le Petit Nicolas
by René Goscinny
This is a series of French children's books, perfect for beginners looking for a light, fun read. Think Calvin and Hobbes, but French.
Vingt Mille Lieues Sous Les Mers: Tour Du Mode Sous-Marin
by Jules Verne
Tackle the classic science fiction adventure novel, first published in 1872, once your French is more advanced.
Tschick
by Wolfgang Herrndorf
The recipient of a German Children's Book Award, Tschick is about the unconventional friendship between a 14-year-old middle-class boy and a Russian late repatriate youngster.
Siddhartha
by Hermann Hesse
This classic novella is deep in spirituality and philosophy but written in a light language, easily understood by beginner-to-intermediate learners.
Heidi
by Johanna Spyri
Originally published in German in 1880, this children's novel has been translated internationally and remains a classic to this day.
Dorfpunks
by Rocko Schamoni
This book is about growing up in northern Germany in the 1980s and has become a classic in its own right, with a film adaptation made in 2009.

Comédias para Se Ler na Escola
by Luis Fernando Veríssimo
This is a young adult novel by one of Brazil's most popular authors, who has published over 60 titles. Veríssimo is also a cartoonist, translator, television writer, playwright, and novelist.
Os Maias
by José Maria de Eça de Queiroz
Required reading for students in Portugal, this book is a realist novel about two friends exploring politics and society in 19th-century Portugal during the decline of the monarchy.
Meia-Noite e Vinte
by Daniel Galera
A portrait of the millennial generation and how a group of friends navigates the digital age with everything and nothing at their fingertips.
O Alquimista
by Paulo Coelho
The international bestseller in its original language. This is the story of a young Andalusian shepherd who decides to embark on a journey to the pyramids of Egypt after having a recurring dream of finding treasure there.

Wild Grass
by Lu Xun
A book comprised of a series of 23 prose poems written between 1924 and 1926 by the famous historical Chinese writer. Xun had originally traveled to Japan to study medicine but returned to China to write books, believing he would be better positioned to help save his country as a writer.
The Wolf Totem
by Jiang Rong
A 2004 Chinese semi-autobiographical novel about the experiences of a young student from Beijing who finds himself sent to the countryside of Inner Mongolia in 1967, at the height of China's Cultural Revolution.
Biān Chéng (Border Town)
by 沈从文 (Shén Cóngwén)
A story about an old ferryman and his granddaughter Cuicui, this poetic Chinese romance was written by Nobel-Prize-candidate Shén Cóngwén.
1988: I Want to Talk with the World
by Hán Hán
1988: I Want to Talk with the World is about a young man and a pregnant prostitute who end up traveling together after an encounter with the police.

After the quake
by Haruki Murakami
A series of stories written in response to Japan's 1995 Kobe earthquake, with each story affected peripherally by the disaster.
God of Bears
by Hiromi Kawakami
In the title story of this collection, the narrator is invited out on a picnic by a bear who has just moved into their apartment complex.
Kitchen
by Banana Yoshimoto
Written in simple language, Kitchen follows a young woman after the death of her grandmother as she tries to find happiness and direction again.
Convenience Store Woman
by Sayaka Murata
A story about 36-year-old Keiko, a Tokyo woman who has never had a boyfriend and has been working in the same supermarket for eighteen years.

Nasrettin Hoca Hikâyeleri
by Orhan Veli
In this anthology of collected stories, Orhan Veli reinterprets classic Turkish folk tales.
Short Stories in Turkish for Beginners
by Olly Richards
A collection of eight unconventional and captivating short stories for young and adult learners of Turkish.
Sevdalı Bulut
by Nazim Hikmet
Some of Turkey's most epic stories, compiled by the famous poet Nazim Hikmet.
101 Deyim 101 Öykü
by Süleyman Bulut
The stories that led to the creation of 101 Turkish idioms used in everyday life.

Дама с собачкой
(The Lady with the Dog)
From the famous Russian author comes a classic tale for intermediate students.
Сказка о рыбаке и рыбке
(The Tale of the Fisherman and the Fish)
In the classic poem by Alexander Pushkin, we encounter a man, a woman, a magical golden fish, and the foibles of human greed.
Twenty letters from Russia
by Tatiana Mikhaylova
These easy stories for beginners are written as twenty letters from a Russian boy named Nikita to his pen pal in America.
Baba Yaga the Mighty Witch
by Irina Ivanishko
In this book, the reader will find four stories about the famous Russian character Baba Yaga based on popular Russian fairy tales.

Minoes
by Annie M.G. Schmidt
This book is written by a famous Dutch children's author about a cat that turns into a human woman.
Knielen op een bed violen
by Jan Siebelink
The autobiographical tale of the Dutch author, written in 2005, has sold more than 700,000 copies worldwide.
Het Diner ("The Dinner")
by Herman Koch
This classic novel tells the tale of two families that meet each other over dinner one evening in an exclusive restaurant in Amsterdam, discussing how to handle the crimes committed by their teenage sons.
De Renner
by Tim Krabbe
Originally published in Holland in 1978, The Rider became an instant cult classic, selling over 100,000 copies. It's the story of a 150-kilometer bicycle race and a love story devoted to the art of road racing.
Almond
by Sohn Won-pyung
This book tells the story of Yunjae, a young boy with a brain condition called alexithymia, which makes it hard for him to feel emotions like fear, anger, and empathy.
Cherry Shrimp
by Hwang Young-mi
A young adult novel about a girl's struggle to fit in at her school. It's an ode to self-love and a protest against relationship fatigue.
The Vegetarian
by Han Kang
Set in modern-day Seoul, this book follows Yeong-hye, a part-time graphic artist and homemaker whose decision to become a vegetarian after a nightmare about human cruelty leads to unexpected challenges in her personal and family life.
Please Look After Mom
by Shin Kyung-sook
This bestseller, which sold over a million copies worldwide within ten months of its release in 2008, is the story of a mother who sacrificed everything for her family.
Hopefully, you'll enjoy perusing some of our top books to learn new languages, whatever your target language may be. Even if you start one book and find it too difficult, you can always pick it back up later and choose an easier book, to begin with; or, if you find it too easy, you can breeze through it and choose a more challenging book to follow it.
Meet yourself at your current proficiency level and remember to keep it enjoyable. This isn't required reading—it's a fun way to learn grammar, vocabulary, and the history and culture of the society portrayed in the book.
Next time you start to nod off while reading your textbook, crack open a novel and bring your learning to life with some of these powerful books from different cultures.
Love languages? Check out our fascinating, and fun language blog here.