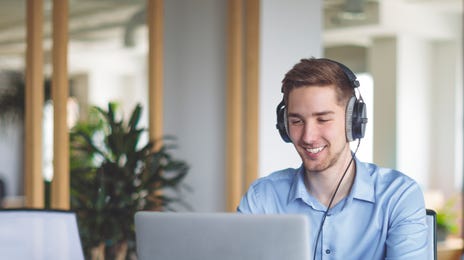 Online group language classes with Berlitz
Led by an experienced, native-speaking Berlitz instructor, group instruction with Berlitz lets you learn a language online in a group of 3 to 6 participants –from anywhere in the world. All you need for your live, real-time online language course is a computer, smartphone or tablet with internet access.
Berlitz gives you access to a wide variety of materials compiled by our specialists. Progress checks and interim reports allow you to monitor your progress throughout the course and a final examination tracks and measures the achievement of your goals. Our online group language classes are available in more than 40 languages, including: English, German, Spanish, French, Polish, Italian and many more.
Benefits with Berlitz include:

Online, virtual instruction from any location
Proven Berlitz quality – same learning content as on-site courses
A maximum of 6 participants in the virtual classroom
Fixed timetable
Lessons are recorded for preparation and follow-up as well as missed lessons
No travel time or travel costs
Fill in the form below for more information or reach out to your local Berlitz language center.
Find out more
Fill in the form below and we'll contact you to discuss your learning options and answer any questions you may have.