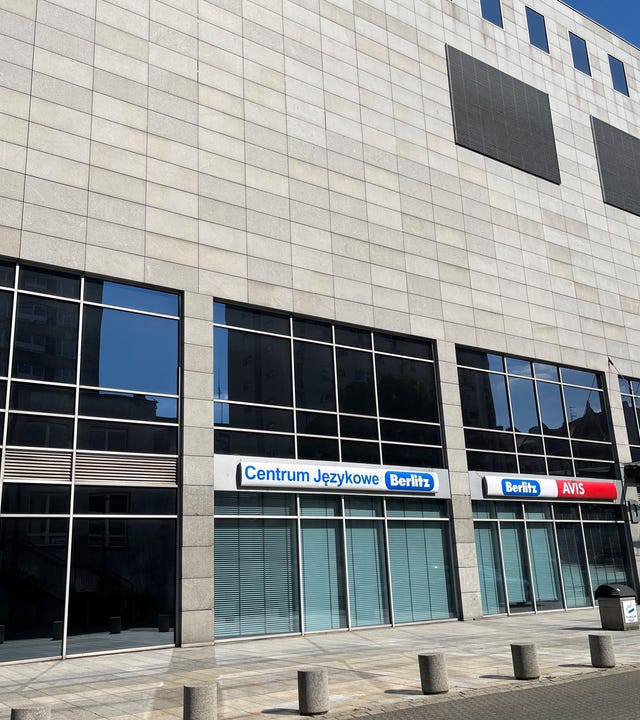 Language School in Katowice
Address:
ul. Uniwersytecka 13,
Katowice , 40-007
Office Hours:
Monday - Friday

8:00 - 20:00

Saturdays

9:00 - 14:00
Why Berlitz is your best language school in Katowice
Learning a new language is easy, when you learn with the experts! Berlitz is the only global language provider who teaches you a new language and how to use it, both for your personal and professional life.
We achieve this by immersing our students in the new language and culture from day one. Since you'll be using the language in a practical way, in real life situations, the results will be fast and effective. Forget about memorizing vocabulary!
All our language programs are offered in private or group instruction and can be customized to meet your specific goals and needs. You can choose the intensity, the frequency or even choose to combine your in-person lessons with online sessions.
Where is the Berlitz School in Katowice located?
Our language center is located in a modern business park at Uniwersytecka 13. We are located between the Katowice Market Square and the Spodek Arena. The entrance to the school is on the ground floor right next to the main entrance to the Altus building.
Jak dojechać do Szkoły Berlitz w Katowicach?
There are many tram and bus stops in the vicinity of our school, as well as a railway station. There is a car park under the building, for which our clients are entitled to discounts.
Find out more
Fill in the form below and we'll contact you to discuss your learning options and answer any questions you may have.