Berlitz ExamPrep, our browser-based e-learning program will prepare you online for your language exam, whenever and wherever you want. You will be able to set up your own profile with a personalized learning plan, and learn at your own pace through interactive questions and exercises as well as practice tests.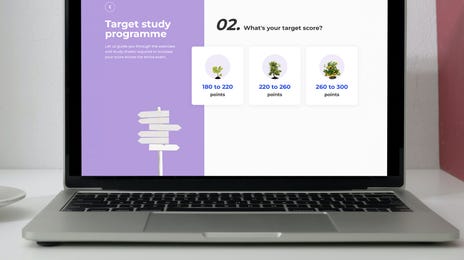 ExamPrep will know your exam goals
Tell ExamPrep the score you want to achieve and when your exam will take place. ExamPrep will keep you updated!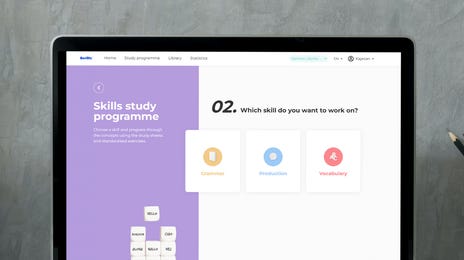 ExamPrep will design your study program
Tell ExamPrep where you would like to focus your test preparation. Choose between Target, Section, or Skills, and ExamPrep will select a study program for you.
See your exam preparation statistics
As you complete exercises and tests, ExamPrep will keep you updated on the homepage. A deep analysis of the statistics can be easily viewed with a click!
Access exercises, mock exams, study sheets, and videos
Examples of personalized study paths:
A2 Key:
You want to get a score of 120 to 140 points
You want to study for 7 hours and gain +10 point on your exam
You have access to: 10 listening comprehension exercises, 15 reading exercises, 6 speaking exercises, 6 writing exercises, 8 review worksheets, 1 mock exam
English: TOEIC L&R, TOEIC S&W, TOEFL iBT, TOEFL ITP, TOEFL Junior, IELTS Academic, IELTS General, Cambridge B2 First, Cambridge C1 Advanced
German: WiDaF, TELC B1, TELC B2
French: DELF
Spanish: DELE
Chinese: HSK
The self-study course is generally compatible with computers, smartphones and tablets. The program runs in most popularly used browsers, but for the ideal learning experience we recommend using the current version of Google Chrome.
After completing your purchase, the Berlitz team will activate your license and send you an email confirmation with an access link.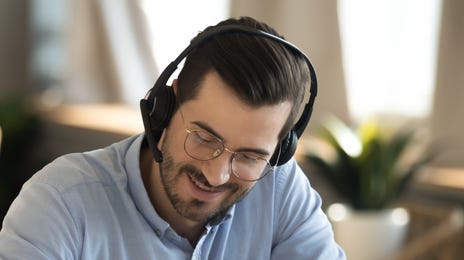 Benefits:
Learn flexibly at your own pace
Interactive exercises, vocabulary and grammar trainer
Statistics and track your learning success

Available for 15 tests and 5 languages
License for 3 months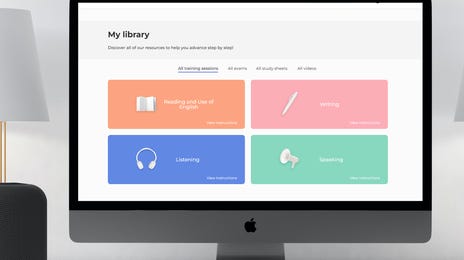 English Language Tests
Cambridge Assessment English - Universally recognized and valid for life, CAE exams are required by schools, universities, and private and public sector employers around the world.
IELTS - Internationally recognized and valid for 2 years, this certification is one of the most popular in the world. It's based on the assessment of 4 skills: Listening Comprehension, Reading, Speaking, and Writing.
TOEFL - The Test of English as a Foreign Language is a standardized test that assesses a candidate's ability to use and understand the English language and is valid for 2 years.
TOEIC - A global point of reference, this standardized exam, valid for 2 years, assesses a candidate's written and oral language skills in a professional context
Linguaskill Business - A language assessment exam that measures the English proficiency of individuals in a business context.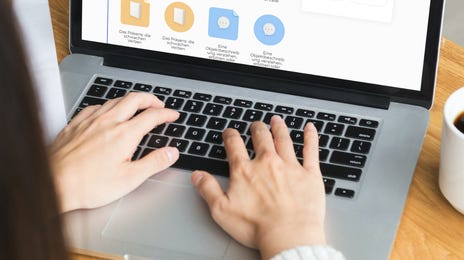 German Language Tests
WiDaF - An internationally-recognized professional German exam, the WiDaF allows you to assess your language skills in a professional context. Administered and organized by the Franco-German Chamber of Commerce and Industry, the test is divided into 2 sections: Mastery of business vocabulary and Reading. Although the exam is valid for life, it is recommended candidates retake it after 2 years.
TELC - Required in the integration or naturalization process in Germany and Austria, the TELC Deutsch consists of 2 sections: a written exam divided into 4 parts and an oral exam. Valid for a lifetime, the test is taken on paper or online and certifies a level of A1 to C2.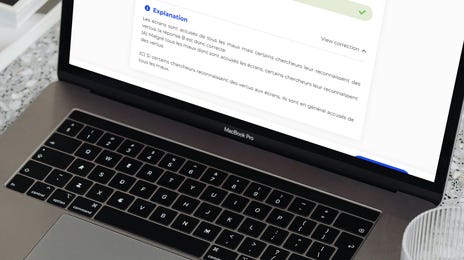 French, Spanish and Chinese Language Tests
DELF - Valid for 2 years, DELF certifies a language level from A1 to C2 and assesses 3 skills: Reading and Listening Comprehension, Writing and Speaking, and Interactions.
DELE - Necessary for anyone wishing to work or study in a Spanish-speaking country, the DELE certifies a language level from A1 to C2. The test has an unlimited period of validity and is structured into 4 sections: Reading, Listening Comprehension, Writing, and Speaking.
HSK - The Hanyu Shuiping Kaoshi is a professional Mandarin-language exam valid for 2 years. This test is organized directly by the Ministry of Education of the People's Republic of China and is divided into 3 parts: Listening Comprehension, Reading, and Writing (only for the HSK 3 to 6)
Select the Engligh exam you want to prepare for:
Exams for German, Spanish, French and Chinese
Find out more
Fill in the form below and we'll contact you to discuss your learning options and answer any questions you may have.