Choose how you want to learn Urdu online
We offer private and group online options for learning Urdu.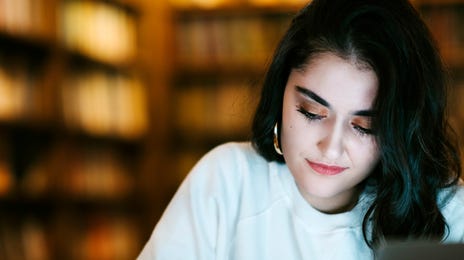 Why Learn Urdu Online at Berlitz
Are you busy but still want to learn a language? When you study online with Berlitz, you don't have to sacrifice your lifestyle. Instead, you can fit learning around your life by choosing when, where and how you learn.
Our Berlitz instructors are also qualified native-level Urdu speakers who will give you direct feedback on your progress. They will help you to understand the music of the language, including word-stress and pronunciation, so you have the confidence to speak Urdu in any social situation.
Benefits of learning Urdu online at Berlitz
A century of success
With 140 years' experience in language education, Berlitz has the proven track record to ensure you'll meet your language goals.
Online classes to study from wherever you are
With Berlitz online learning, you have the flexibility to study wherever you like: on the bus, in your lunch break, or even at the park.
Study at your own pace with total flexibility
Our flexible online timetable means that you pace your study however you like—from one class a week, to classes every day of the week, the choice is yours.
Intensive courses available
If you need Urdu language skills fast, we have several intensive Urdu courses to choose from.
Certified and experienced teachers
You will learn with qualified native-level Urdu trainers who will provide you with direct feedback on your progress and answer any questions that you may have along your learning journey.
How learning online works with Berlitz
Frequently asked questions (FAQs)
The short answer to this question is yes! Hindi and Urdu are variations of the same language, known as "Hindustani". A speaker of Urdu and a speaker of Hindi would be able to have a conversation and understand each other, therefore are mutually intelligible.
However, each language has its own separate writing script, which means a Hindi speaker reading Urdu wouldn't understand the words if they didn't know Urdu script - and vice versa.
Our proven language immersion technique, the Berlitz method will get you speaking fluently, fast, from day one. You can also try extracurricular activities such as watching Urdu news, Bollywood films, and listening to songs in Urdu, to help immerse yourself in Urdu speaking.
If you're a native English speaker, Urdu may be a moderately difficult language to learn. It has a unique script written from right to left and 38 letters of the language. Conversely, if you're familiar with languages such as Arabic, Sanskrit and Persian, you may find Urdu easier to learn.
Yes, much of the content in our online courses are downloadable, so you can access it even when you're not connected to the Internet.
Schedule a free demo
Fill in the form below and an enrollment advisor will contact you to set up a free demo and discuss our language options with you.