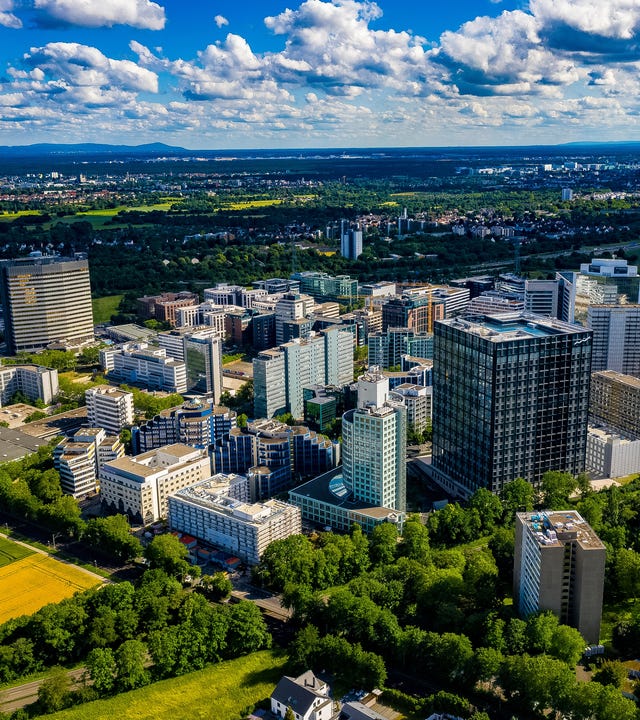 Eschborn Language Center
Address:
Hauptstraße 81–85
65760 Eschborn, Hessen
Welcome to the Berlitz language school in Eschborn
Berlitz Eschborn can be found in a listed building in a quiet but easily accessible location. We are very close to the Skulpturenachse sculpture park and the Eschborn city museum. Instruction is based on our proven Berlitz Method, in which grammar is always practiced and internalized through speaking and in the context of a specific situation. At our Eschborn language center, you practice the language using all of your senses and learn to understand, read, write, and speak the new language with confidence. Because the content is always tied to real-world scenarios, you learn more efficiently and quickly. From day one, our specially trained native-speaker instructors create a positive, welcoming, motivating atmosphere. All course participants are constantly engaged and encouraged to learn independently. In addition to language courses, we also offer intercultural training and business seminars, whether for individuals or companies.
These are some of the languages you can learn with Berlitz Eschborn:
Why you should choose the Berlitz Center in Eschborn
Preparation for language examinations: If you are planning to take a language examination, the expert language instructors at Berlitz in Eschborn will help you be as prepared as possible. We offer prep courses e.g. for the TOEFL, TOEIC, telc, and VPET (formerly LCCI) examinations.
Courses for kids and teens: The Eschborn Berlitz Center offers weekly courses in a wide range of languages for kids and teens ages 6 years and up. In addition, in the school vacations we run language camps in which instruction is provided every day.
Happy Hour: At our Eschborn language center, you can learn languages at particularly attractive prices during selected times of the day and week. By participating in an individual instruction course during a specified period (e.g. during lunchtime or on Saturdays), you receive a discount on our regular prices.
Large selection: You not only can learn German, English, and French at our Eschborn language center, but many more languages as well (through individual instruction). In addition to language courses, Berlitz Eschborn also offers management training, intercultural workshops, and business seminars.
Flexible course formats: In addition to group instruction and individual instruction, we also offer online courses – e-learning formats for self-guided study as well as individual or group Live Online courses taught by our team of instructors in an Online Classroom. You can also combine on-site instruction at the Eschborn Berlitz Center with an online course.
Your Berlitz Team in Eschborn
Gloria Martini
Senior Center Director
Your contact for all language courses, either directly in the Berlitz Eschborn Center or in the Online Classroom.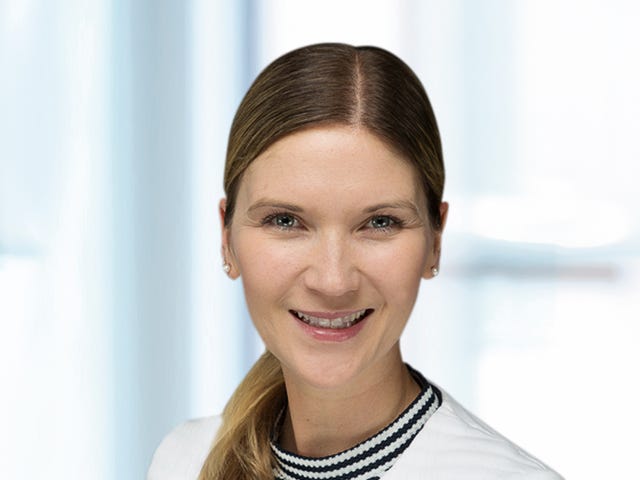 Charlotte Tretiak
Manager Corporate Services
Your contact for corporate training and key accounts in Eschborn and vicinity.
FAQs
Does the language school also offer language courses subsidized by the Federal Employment Agency?
At Berlitz Eschborn, you can take part in individual instruction language courses that are eligible for the Federal Employment Agency's AVGS training voucher. Our "Selbstvermarktungsstrategien für Akademiker" (Self-Marketing Strategies for College Graduates) group course is also eligible for state funding. This course is in German.
What is the best way to reach Berlitz Eschborn?
If you come by car, you can park at the Park & Ride lot about 150 meters away from the Eschborn Berlitz Center. There is additional parking at Eschborn train station and on many side streets in the surrounding area. Eschborn train station is within a 5-minute walking distance of the Berlitz Center.
What target groups do you offer courses for?
Everyone will find the language course that's right for them at Berlitz Eschborn, regardless of their age, educational background, and reasons for deciding to learn a new language. You can take an active role in tailoring the instruction to your wishes so that you address topics that truly interest you and are useful in your everyday life.
What courses do you offer specifically for companies?
We offer companies a wide selection of courses in the fields of language skills, intercultural skills, and leadership and soft skills. Our Corporate Sales Team will be pleased to assist you in finding the appropriate course format for you and your employees and explain specifically how they can support you in the coordination and administration of your continuing professional education programs. There are many options available, so please contact us for more information.
Find out more
Contact us today with your questions. We can work together to find the course that's right for you – with no obligation on your part. Your Berlitz team will contact you shortly.