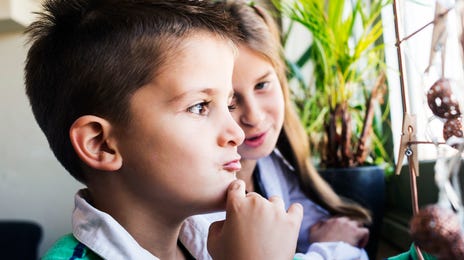 Comfort with Spanish conversation is our goal
Chances are if you are interested in Spanish for kids courses, your goal is to become conversational in Spanish. Reading, writing, vocabulary and grammar are all important, but the truth is Spanish conversation is the goal of almost every language learner.
For that reason, all of our online Spanish classes for kids are focused on conversation. Learners are completely immersed in the language during lessons to gain confidence and comfort speaking and understanding spoken Spanish. 
Tips to get your child learning Spanish conversation
There is a lot you can do with your child outside of regular lessons to help them learn Spanish conversation. While enrolling them in an online Spanish class is important and will provide structure to progress to fluency, it is equally as important to use Spanish outside lessons to practice and reinforce the subjects they are learning. 
Here are just a few ways you can help your child gain confidence with Spanish conversation.
Watch movies and television shows in Spanish
Most kids have a favorite show or movie and they likely can recite most of the movie. Take advantage of this familiarity by watching it in Spanish. This will help your young learner build confidence by practicing with words and phrases they will be excited to say!
Play Spanish games
Playing games is a great way to learn Spanish for kid because it forces them to interact. Whether it is a board game, video game or card game, it will force them to speak Spanish to play the game. It is best to pick a game they are already familiar with.
Listen to Spanish music
Music is a very personal experience, particularly because you can do it with headphones on. This makes it a great learning tool to learn Spanish for kids. They can listen and sign along by themselves, which will build confidence. Here are a few Spanish songs to get started learning Spanish.
Use Spanish language apps
Similar to games, Spanish language apps are designed to increase engagement. They work in the same way as games, however, they are more focused on learning. Best of all, as your child move through the game, they will be tracking their progress. 
Enroll in a Spanish class for kids
If you are really serious about giving your child the best chance to learn conversational Spanish, you will need to enroll them in an online Spanish class for kids. This will give them the structure and learning path to achieve real results.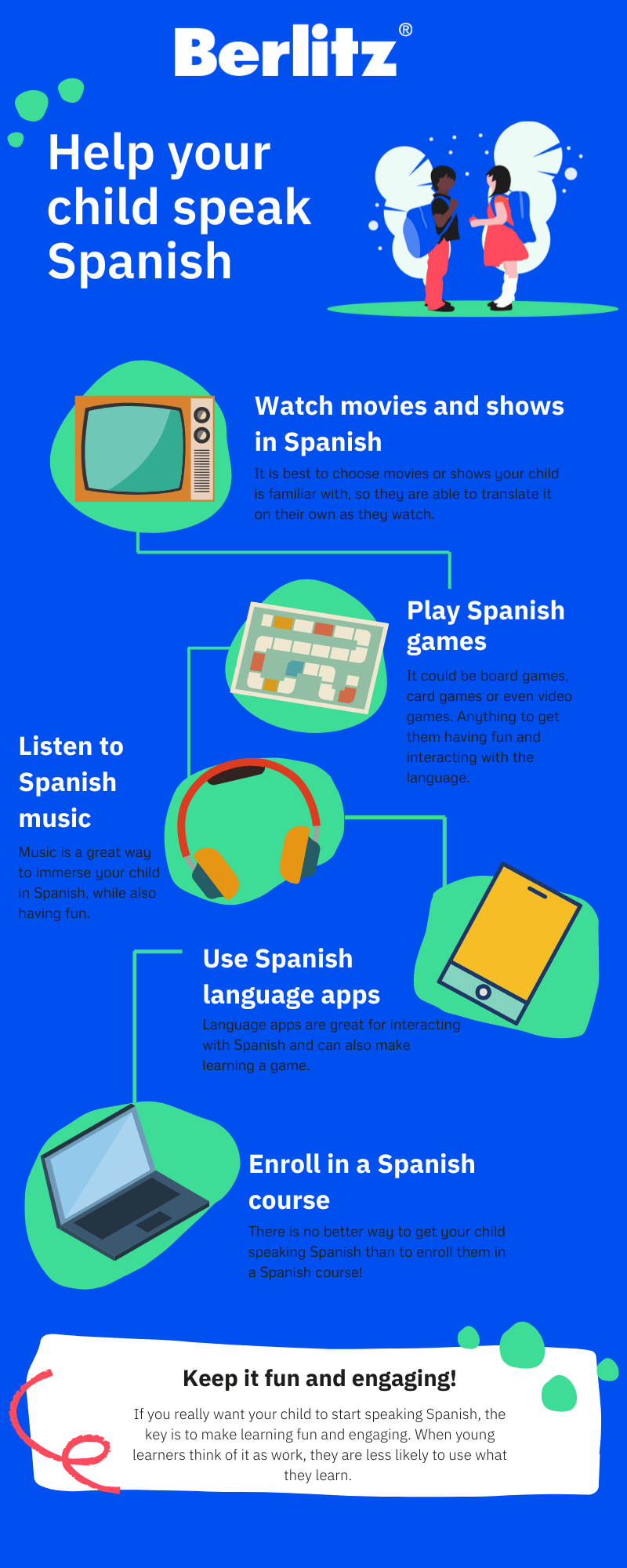 Call Us
---
Find out more
Fill in the form below and we'll contact you to discuss your learning options and answer any questions you may have.