Spring Saver Special deal: 30% off all languages 
Available for English, German, French, Spanish, Mandarin, Japanese, Italian.
Limited offer for new enrolments in September - all levels available.
Can start a course anytime within the next 6 months.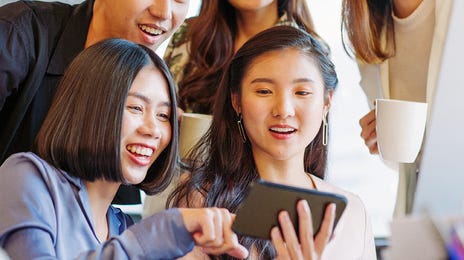 Online Small Groups
Online small groups are a perfect way to learn a language quickly. They are personal, convenient, cost-effective and keep you motivated since you will be able to practise speaking a lot in every lesson. 
Only 3-6 people in every group to ensure you learn quickly
Practice real-life situations with other learners
Meet students who are based in other countries
Taught by experienced native-speaker instructors
Courses available mornings, afternoons or evenings
Frequently asked questions (FAQs)
Live Online open groups are available in many languages. These include English, Business English, French, German, Spanish, Mandarin, Japanese, Italian, Arabic, Russian, and more.
Because Berlitz Live Online open group courses are being run in different regions around the world, there are new courses being regularly scheduled.  Please contact us to help you find out the best next available course for you, or search our Language Groups course finder.
Each open group runs for 20 weeks. Some courses involve one X 2hr lesson each week, while other courses are two X 1hr lessons each week for 20 weeks. Total duration is 40 hours.
Because Berlitz has many students worldwide who are passionate about learning languages, we have a steady stream of online group courses at basic levels, intermediate and advanced levels throughout the year. Contact us to discuss your needs.
English small groups: AUD $599  (regular price = $799)
Foreign language small groups: AUD $720 (regular price is $960)   

Tuition for Spanish, German, French, Italian, Portuguese, Mandarin, Japanese.
For other languages, please contact us directly.
Includes digital course book & certificate on completion 
We accept the following payment options:
Up-front payment in full (10% discount) - payable online or direct transfer
Pay by 3 X monthly installments by direct debit
Easy interest-free installment payments available by OpenPay
Openpay is now available for all Berlitz language courses so you can start learning now & pay later.
Flexible interest-free installments of 2 months, 3 or 4 months, up to 6 months.
Subject to Openpay T&Cs for eligible applicants.
Apply online now or discuss with our friendly staff who can help you get started. 
You can visit the Berlitz Online Store to order directly.
Contact us now
Let us know which language you want to learn and we will reply to you with information about the next group course.