EOFY offer: 30% off any language course 
End Of Financial Year special discounted rates.
Available for English, Business English, German, French, Spanish, Mandarin, Japanese, Italian.
Limited offer for new enrolments before 30 June - all levels available.
Enrol and pay now and you can start any time in 2023 at this special price.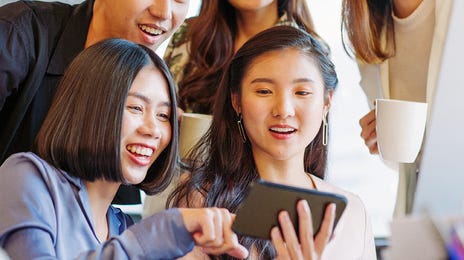 Online Small Groups
Online small groups are a perfect way to learn a language quickly. They are personal, convenient, cost-effective and keep you motivated since you will be able to practise speaking frequently in every lesson with other students.  
Only 3-6 people in every group to ensure you learn quickly
Practice real-life situations with other learners
Meet students who are based in other countries
Taught by experienced native-speaker instructors
Courses available mornings, afternoons or evenings
Frequently asked questions (FAQs)
Live Online open groups are available in many languages. These include English, Business English, French, German, Spanish, Mandarin, Japanese, Italian, Arabic, Russian, and more.
Because Berlitz Live Online open group courses are being run in different regions around the world, there are new courses being regularly scheduled. For example, a new course scheduled at 8pm in the USA (NY time zone) is 12 midday in Sydney & Melbourne, while courses scheduled at 10am in Europe CET begin at 6pm in Sydney & Melbourne.
Please contact us to help you find out the best next available course for you, or search our Online Group Course planner.
Each open group runs for 20 weeks. Some courses involve one X 2hr lesson each week, while other courses are two X 1hr lessons each week for 20 weeks. Total duration is 40 hours.
Because Berlitz has many students worldwide who are passionate about learning languages, we have a steady stream of online group courses at basic levels, intermediate and advanced levels throughout the year. Contact us to discuss your needs.
English small groups: AUD $599  (regular price = $799)
Foreign language small groups: AUD $799 (regular price is $1,050)   

Tuition for Spanish, German, French, Italian, Portuguese, Mandarin, Japanese, Russian, Korean Danish, etc.
For other languages, please contact us directly.
Includes digital course book & certificate on completion.
Includes GST. 
We accept the following payment options:
Up-front payment in full (10% further discount) - payable online or direct transfer
Pay by 3 X monthly installments by direct debit
Contact us now
Let us know which language you want to learn and we will reply to you with information about the next group course.