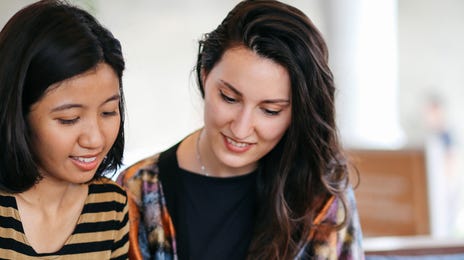 International students
Berlitz Australia is able to offer international students from all over the world the option of studying English Pathway Programs through our partner institutions in Sydney, Melbourne, Brisbane and Perth. If your goal is to study English full-time for 3 months, 6 months or 12 months – then these programs are designed for you.
Study English in Australia
After completing the full-time English program, you may be able to apply for a vocational program such as a Diploma or Advanced Diploma course for a formal qualification, or even gain direct entry into University degree programs. Our partner institutions in Australia also offer vocational qualifications, so you can go straight from a General English or Academic English program directly to a Diploma or Advanced Diploma course at the same college, if that is your preference.
We are able to arrange your enrolment for you, and provide you with the documents required to process your Study Visa. Once your enrolment is confirmed, the Confirmation of Enrolment (COE) is issued to you so you can submit this for your visa application to the nearest Australian Embassy.

All programs offered by our partners are fully accredited and compliant with the ESOS Act 2000, ELICOS and CRICOS registrations.


Study & work in Australia

One of the many benefits of studying in Australia as an International Student, is that you have the option to legally work a maximum of 20 hours per week during the semester period, and 40 hours per week during the vacation periods.



Accommodation
Berlitz is able to provide you with several accommodation options, designed to fit your preference and budget. Choose from Homestay, Student Residence or Private Studio Apartments.
Study English in Australia
Contact us to find out more
Please fill in your details below and one of our friendly staff will contact you very soon to discuss further.